Toshiba to mass-produce mobile-friendly fuel cells in 2009
Assault on batteries
Toshiba is gearing up for a greener 2009 by announcing plans to mass-produce Direct Methanol Fuel Cells (DMFCs) by March next year.
The company last week said it will set aside cash to build a DMFC production line from which the first products are expected to appear by the end of March 2009. Toshiba said it views the technology as a more eco-friendly way to power UMPCs, mobile phones and other handheld devices.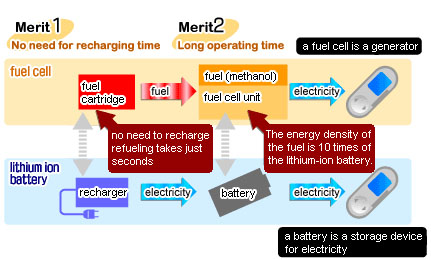 Toshiba thinks DMFC is a future power house
The scheme is part of a plan that will see Toshiba spending an extra ¥500bn ($4.8bn/£2.5bn/€3.14bn) on R&D over the next three years in a bid to drive double-digit sales growth.
The strategy is Toshiba's attempt to move beyond its failed attempt to establish HD DVD as the standard next-gen optical disc format. The plan will see it put the PS3's Cell processor into HD TVs in 2009, and its Cell-based SpursEngine graphics chip into PCs this year.
Toshiba isn't the only electronics manufacturer looking into DMFCs. Samsung's already produced a prototype laptop battery using the technology. Panasonic has already begun pitching DMFC as a rival to mains-sourced power.
Sony recently showed off a palm-sized fuel-cell prototype designed to work alongside a regular lithium-polymer battery.
A DMFC produces electricity from air, water and methanol. Toshiba said fuel cells don't emit any particularly harmful materials, the main by-products being water vapour and carbon dioxide.
Toshiba also said DMFCs provide many more times the energy density of a lithium-ion battery, allowing gadgets to be powered for longer periods of time.
If DMFC still isn't a green enough power option for you though, then you could always try pedal power.
Sponsored: Minds Mastering Machines - Call for papers now open