LG KF700 slider phone
Triple-action, touch-screen handset
Web browsing is neatly implemented. HSDPA boosts the KF700's data speeds, and there's easy zooming in and out using the dial control, plus a mini-map overview, and the option to view in full widescreen mode. As you adjust the zoom, new-size pages are rendered quickly. Links are scaled up too, for easy touchscreen pressing.
You can synchronise the KF700 with a PC and backup the phone using the supplied PC Suite software and USB cable. Macs aren't supported, however. You can also transfer other content – including music – to the phone in this way. Bluetooth, and of course memory cards, can be used to copy across your music.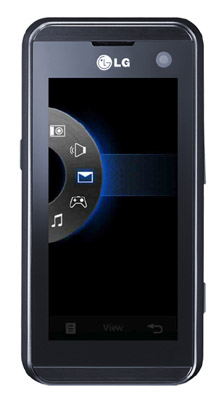 The Shortcut Dial 'quick' menu
We experienced no problems with KF700's sound quality when making or taking calls – everything was top notch. Although there's the slider number pad, you can use a virtual touch numeric pad if you want to maintain total touchscreen control.
Touchscreen control can imply a power-sapping battery experience, particularly with a 3G engine under the bonnet. LG claims that, between charges, the KF700 can keep going for up to 340 hours on GSM networks - it's a tri-bander, supporting Edge - or 280 hours in 3G operation. Talktime is estimated at up to three hours. In practice, with our average level of usage, we got between two and three days out of the phone before reaching for the charger. Add in more intensive tune playing and you can expect more frequent re-juicing.
Verdict
The KF700 isn't a do-it-all top-end touchscreen smartphone. Rather it's a mobile with a good spread of mid-range features, including an admirable camera, music player and browser, that are implemented through a rather user-friendly touchscreen interface.The phone's touchscreen and slider combo give it a more solid feel than most mid-range phones, although some users may appreciate the text-tapping comfort of a regular numberpad.
If you're keen to check into the touchscreen club at the mid-tier rather than top-end level, this is a good performer.
Sponsored: Minds Mastering Machines - Call for papers now open

LG KF700 slider phone
LG taps into touchscreen again with a triple-action control freak's phone.
Price:
Contract: free-£160. Pre-pay: N/A. SIM-free: £499 RRP