LG KF700 slider phone
Triple-action, touch-screen handset
Tapping the main menu key brings up a further set of four sub-menu icon buttons running vertically up the side of the screen. The sub-menu icons represent call options, multimedia applications, tools and organiser functions, plus settings. A grid of labelled symbols in the centre of the screen show which applications are available within each sub-menu. As you tap on each icon, the grid symbols change accordingly, so you can clearly see the options.
This helps make it an intuitive interface - you don't have to concern yourself with learning your way round or scrolling through multiple menus to explore the features and gadgetry.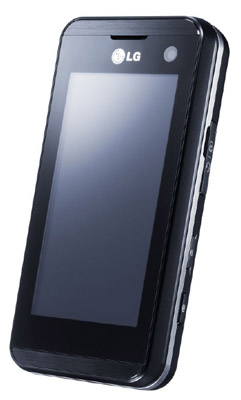 7.2Mb/s HSDPA 3G connectivity but no Wi-Fi
Incidentally, from the standby page, there's a widgets-style tab you can set to automatically pull up on-screen calendar, clock, memo or world clock. On the O2-only version of the KF700 we tested, there's also a fast link button for the O2 Active mobile internet portal.
The touch interface is quite responsive compared to its predecessors, and you get haptic feedback - a slight vibration - when you tap the screen. The screen and interface isn't as slick and responsive as the smooth one on the iPhone, but there is an element of finger stroke control, so you can scroll quicker through some lists, but again, its not as effortless as Apple's device and can feel stilted.
There's no stylus supplied, so it's all finger driven. Delving through menu options is helped by LG's regular option of hitting numbers corresponding to the option on the keypad but you can scroll through too. Usefully, buttons are consistently lined up on the top of menus for a quick route to other key options such as messaging, contacts and home page.
You can also multi-task easily. There's an icon you can press to tap into another function while one is running. The dial can be a handy way of getting to your most used options, although you can go through the main menu too. Press the multi-task icon again, and you can go back to select from a list of other open applications.
Sponsored: Minds Mastering Machines - Call for papers now open