Babbage's Difference Engine hits Silicon Valley
Wafers? Nah. How about bronze and wood?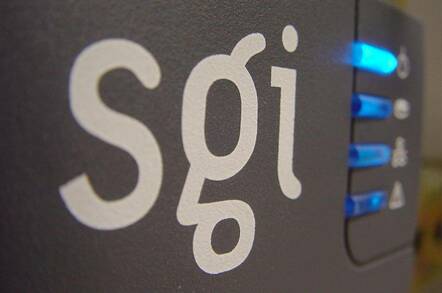 Silicon Valley got its first look at the true roots of the digital age this week, with the arrival of a five-ton calculator made from the designs of the Victorian-age mathematician and Londoner, Charles Babbage.
The Computer History Museum in Mountain View, California is hosting the second replica of Babbage's Difference Engine No. 2.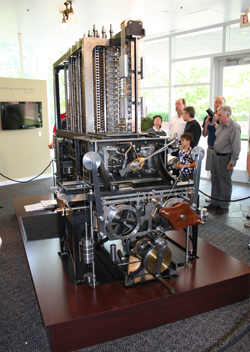 Babbage's Difference Engine No. 2
The difference engine is astoundingly complex, housing more than 8,000 parts made of steel, bronze, iron and wood. So ambitious and ahead of his time was his design that Babbage was never able to complete the device, due in part to the unsophisticated engineering processes of the 19th century and a withdrawal of lavish funding from the British government.
Babbage's machine, using no electronic parts, adds with numbers up to 31 digits long to calculate polynomials up to the seventh order. It's capable of cranking out — literally cranking out — polynomials at the rate of one per six seconds.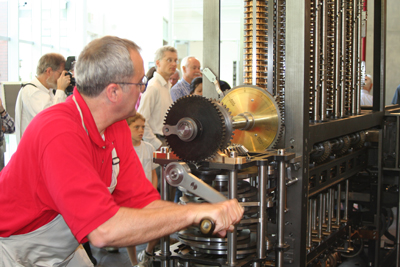 Get yer' hand-cranked polynomials here
A view from the side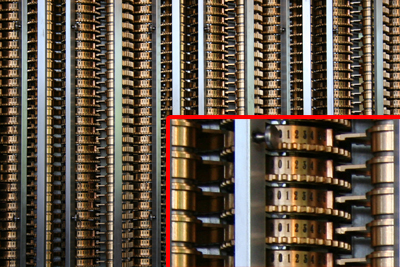 Looking close at the decimal columns
Although it was never built in his time, Babbage's engine is now considered the first known example of a automatic computational machine. The device also included plans for a printing device that would have been the first automated typesetter, capable of text wrap, two font sizes, and could be directed to print different column widths and line spacing.
But when Babbage died in 1871, he left behind only 20 pages of drawings and instructions on the device, and his hope for vindication from future generations.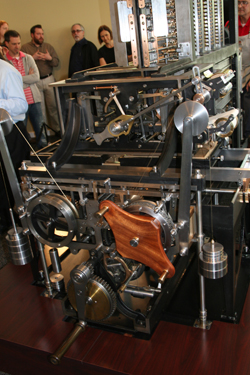 Babbage, the original steampunk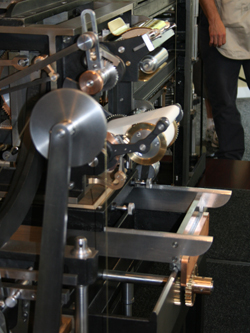 Ye Olde PC Load Letter? What the...?
"Another age must be the judge," he wrote.
The first working model of Babbage's difference engine began construction in 1991 — some 142 years later than intended — by the Science Museum in London. Using his original design notes and materials that would have been available to Babbage at the time, the builders proved his astounding machine would have worked exactly as planned.
There on display, the completed device caught the eye of former Microsoft chief technical officer and millionaire, Nathan Myhrvold, who in 2002 commissioned a second difference engine of his own.
Only finished last month, the second difference engine replica will be on display at the Computer History Museum until May 2009. After that, it will be moved to Myhrvold's home in the Seattle area. And if this monster isn't a convenient conversation starter, we don't know what is. ®
Sponsored: Minds Mastering Machines - Call for papers now open