Apple to announce handheld games console at WWDC?
3G iPhone launch a decoy
We'd dismiss the Newton idea as wishful thinking, and while some consumers might fancy a bigger even more video-centric iPod, iPod announcements usually come later in the year. A Mac tablet is more likely to quicken the juices of Mac developers, but we'd guess Apple would leave that for Macworld Expo in January. There's certainly no burning need for a Mac tablet now, not least because Apple executives have consistently talked about the iPod Touch as the foundation for the company's handheld strategy, not the Mac.
Besides, what's really there for developers other than the chance to sell a few more copies of apps to Apple and iPod addicts? Surely what they'd really fancy is whole new platform, compatible with their Mac and iPhone development experience, but taking them into a new arena of business?
Enter Apple's first foray into dedicated mobile gaming, a notion that's also been doing the rounds of late, but separately from the iPhone discussion. Just as the iPhone leveraged Apple's experience selling the iPod and the huge marketshare the company built up doing so, an - if you will - 'iPlay' would do the same with mobile gaming.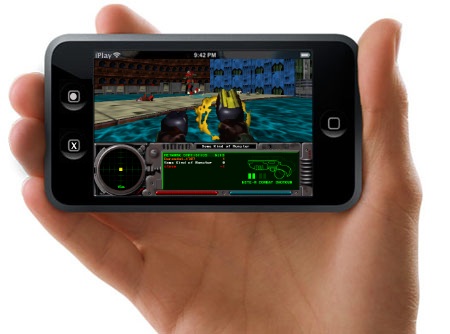 Apple's 'iPlay': the real WWDC highight?
Artist's impression
The iPod does this already, but in many if not most consumers' minds, the iPod is a music and video device. The success of the PlayStation Portable and Nintendo DS Lite shows there's a big market for 'game first, other stuff second' devices alongside the iPod's 'other stuff first, games second' approach.
If any company was to seriously take on the likes of Sony and Nintendo, it would not only need a brand as strong as Apple's - not to menion an Apple-like marketing budget - but also the support of as many games developers as it could persuade to get coding. Unlike the iPhone and iPod, third-party software development would be key to the iPlay's success. For Apple, WWDC is the logical place to get that ball rolling.
Such a move would be well worth bringing the 3G iPhone announcement forward for - especially since it would leave the world's media try to guess in print and online what Jobs will announce instead.
The voice of caution warns that almost all the other pointers indicate a June 3G iPhone debut. But as we say, what's really there for developers that hasn't been said already?
Sponsored: Minds Mastering Machines - Call for papers now open