Iubi Blue personal media player
Not a bad box of tricks
Maybe that doesn't sound too difficult to master, but when combined with a less than crystal clear on-screen menu structure you can quite often find yourself wondering just how the heck you get it to perform certain tasks. Once you are used to it, things get easier, but even so...
One handy feature on the Blue is that you can hold the Fast Forward or Rewind keys down until it gets to your preferred speed - x12, x24 all the way up to x128 - then let go and watch playback continue at the chosen speed. This makes scanning back and forth through video files a breeze.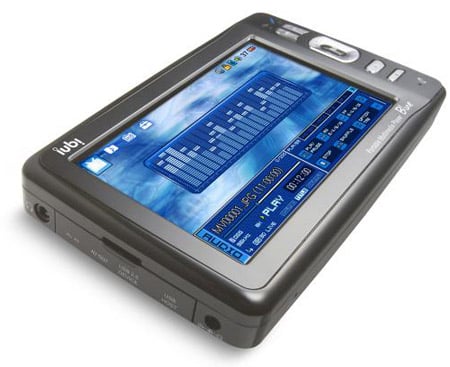 Its battery life licks rival PMPs from Archos and Cowon
Open a video file that you have quit before the end and the Blue will ask you if you want to resume play from the point you left off. We aren't entirely sure how many files it remembers, but it's certainly more than three, which is all the 605 can muster. Mind you, should it need to ask at all? Isn't this sort of thing supposed to be automatic?
The Blue comes with the capacity to record through an on-board microphone so can be pressed into service as a digital voice recorder. If you have a great idea and you have bought a 605, you'd better pray you have pencil and paper to hand, or a darn good memory.
Sadly, the Blue comes with a power brick that would not be out of place connected to a full-sized laptop though once charged it takes the honours for battery life. We got just over 7.5 hours of video and 12 hours of audio from a full charge, which is pretty impressive in our book, and for video is way better than the Cowon and Archos players, neither of which will get to much beyond five hours of video before they turn up their toes.
In an attempt to come to some sort of balanced judgement on the subject of video and audio quality we loaded it up with a 628 x 254 DivX copy of Die Hard 4, figuring that such a loud, brash and utterly diabolical, effects-driven pile of codswallop would show up any failings in spades on both the audio and video front. To check out the audio we used a 160Kb/s MP3 copy of Robbie Robertson's superb 1987 self-titled solo album.