MWg specs up 2008 handset roadmap
Windows Mobile 7 device en-route
The Mobile and Wireless Group (MWg) has given Register Hardware a sneak peek at four upcoming handsets, including its first Windows Mobile 7 device, during the official launch of the firm's two latest handsets: the Atom V and Zinc II.
MWg, formerly O2's Asian handset business, told us that during Q3 the GPS-enabled Rici will be unveiled. Rici is a three-megapixel handset capable of 7.2Mb/s HSDPA 3G data connections, a rate that puts it on a par with HTC's recently unveiled Diamond.
The company also plans to release three further handsets in Q4, including Flame – a device that was scheduled to be shipped by O2 in 2007, but which never emerged in the UK. The talker's already listed on MWg's website, but with a lower spec than the one MWg gave us today suggesting a revamp is in the works.
For example, the Q4 version of Flame will be MWg's first Windows Mobile 7 handset. It's thought the OS will be more user friendly than previous versions and one report has claimed users will operate the OS by a finger movements, allowing them to flick their way through lists and swipe sideways on screen.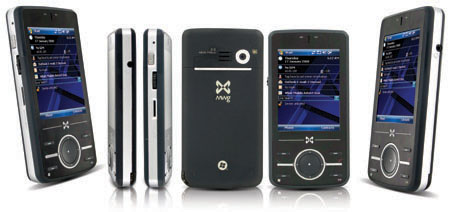 MWg's Atom V: provides 7.2Mb/s HSDPA
MWg also said the latest version of Flame will have a 3.5in display to show off images snapped on the phone's 3.2-megapixel camera. GPS will be on board too.
Slightly later during Q4 comes Iris, which boasts a slide-out Qwerty keyboard. Like the Rici, Iris will also provide 7.2Mb/s HSDPA downloads and include GPS.
Last, but not least, Q4 will also see the arrival of Graphite II. As the name suggests, the phone will be a second stab at a handset that first appeared on O2 in March last year. Although MWg didn't share many details about the Graphite II, it's pretty fair to assume that because there won't be a touchscreen, the device will be pretty low-spec.
But to keep customers patient in the meantime, MWG has now released the Atom V and Zinc II. Atom V doesn't run on Windows Mobile 6.1 - MWg opted for the older version 6.0 instead -and has a 2.8in 240 x 320 touchscreen. We found the touchscreen a little slow at responding to finger presses, but it responded well to the supplied stylus.
In addition to quad-band GSM/GPRS/Edge connectivity, users also have 7.2Mb/s HSDPA downloads at their fingertips. The phone's strong on multimedia functions too, with a two-megapixel camera built into the Diamond-esque device's frame and support for a range of multimedia formats, including MP3 audio and MPEG 4 video.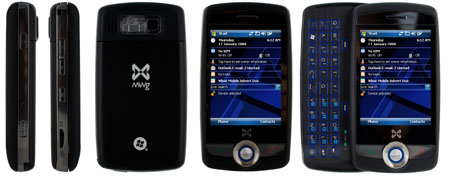 The Zinc II runs on Windows Mobile 6.1
MWg's Zinc II has a slightly more iPhone feel to it, thanks to cute rounded edges and a single Home-style button. But it also has the benefit of a Qwerty keyboard, which slides out from underneath the 2.8in, 240 x 320 screen.
The Zinc II runs version 6.1 of Windows Mobile and also has a two-megapixel camera for snapping. HSDPA connections of up to 3.6Mb/s will allow for speedy downloads, if slightly slower than on the Atom V.
The Atom V is available now exclusively through Expansys for £400 (€500/$790), while the online retailer expects the Zinc II to be in stock within nine days – when it'll cost £450 (€570/$880).
Sponsored: Minds Mastering Machines - Call for papers now open