Id Dooms gamers to new shoot-'em-up sequel
Dive into the melee. Deploy superior firepower. Endure
Grand Theft Auto IV may have soaked up 90 per cent of gaming headlines for the past few weeks, but classic first-person shoot-'em-up Doom is set to make a comeback. Version 4 is now in development.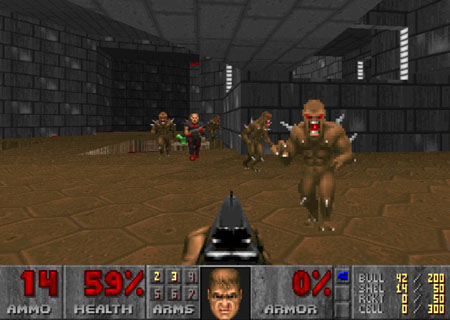 The original Doom: ahh, the good old days
Doom 4 is being produced by the game's original creator, id Software, and the company has claimed the latest version will bring "hell to Earth". Presumably, that means we'll actually be back in Doom 2 territory, much as Doom 3 was a 're-telling' of the original game.
The company's currently recruiting a larger internal team of "creative minds" to help it bring the popular game back to life.
The latest version of the title will be available on just about every gaming platform, including the PC, Mac, Xbox 360 and PS3. Perhaps a Wii version would be a little tricky though?
The company, which also created Wolfenstein and the first three members of the Quake series, released Doom 3 in 2004. But the original version of Doom was launched way back in 1993.
Sponsored: Minds Mastering Machines - Call for papers now open