Sony launches 'Freeview HD'-ready LCD TV line
Future proof
With the UK launch of terrestrial HD pencilled in for 2009, Sony has jumped onto the bandwagon and unveiled a Bravia LCD TV series featuring an integrated MPEG 4 AVC HD-capable tuner.
The 26in, 32in and 37in models in the V4500 series each have one of the tuners that let you watch HD TV programmes over Freeview – a service that will roll out first in the Granada region next year and across all of England by 2012.
Each V4500 model has a native resolution of 1366 x 768 - so 1080p and 1080i content will be downscaled to 720p. They have a 178° viewing angle which is complemented by a swivelling stand that should help to guard against neck strain.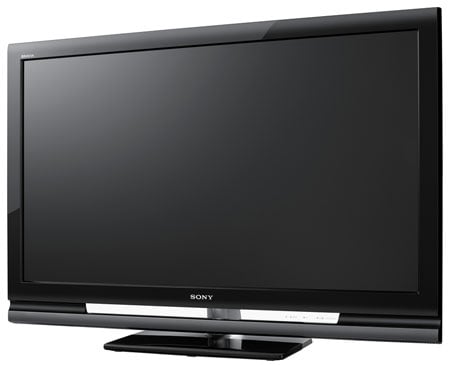 Sony's V4500 series: features an integrated HD tuner
The range makes use of Sony's XMB media interface, already a familiar sight for PlayStation 3 users. Each TV has three HDMI inputs for connecting HD accessories, and two Scart ports for old-style devices.
Sony has built a picture mode into the V4500 series, allowing users to display either a selection of pre-installed gallery pictures, such as van Gogh master pieces, or load up their own snaps. This mode is designed to save electricity when the set is not in use and help it look more like a beautiful wall hanging.
Picture-frame mode is currently Sony's flavour of the month and already features on several Sony sets, including members of the E4000 series.
A release date or price range for the V4500 series hasn't been seen yet.
COMMENTS
Not HD Ready without DVB-T2
It's not the tuner that's HD Ready in this TV, it's the MPEG decoder. These TVs only have DVB-T tuners, but Freeview HD will use DVB-T2, and tuners for this standard haven't even been designed yet.
DVB-T2 has only just been agreed by the DVB Group, and many people think Ofcom is being wildly over-optimistic that silicon will be ready by the end of 2009, let alone receivers and IDTVs in the shops.
The whole idea of HD in 2009 is just a trick to distract us from the complete rip-off inherent in Ofcom's Digital Dividend strategy. They're selling off the Crown Jewels of broadcasting spectrum to make a quick buck for Gordo's election war-chest, and the TV landscape in Britain will be a lot poorer for it.
1366 x 768 resolution?
Is that just because you don't have the stats for the 40" and above yet? The current 40" V-series (KDL-40V3000 to be nerdy) and larger are full 1920x1080 panels; they don't seem to be doing sub-40" V-series at the moment on the official site.