Americans offered smart footwear
Do they have souls?
If a woman wants to blow £1000 on a pair of shoes then Manolo Blahnik is the obvious answer, but rich males had never been afforded the same option until the launch of the Verb For Shoe hi-tech sneakers.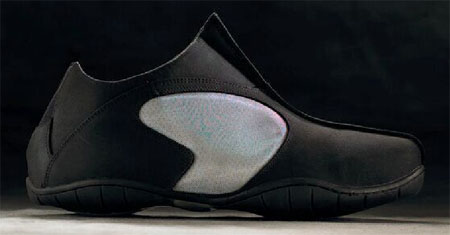 VectraSense Technologies' Verb For Shoe is the ultimate in high-tech walking
At $700 (£350) a pair, these cutting-edge kickers cost considerably more than anything from Nike and Apple's tie-up. But Verb For Shoes are more advanced, featuring an embedded computer to provide "Auto Comfort", which allows the fit to be adjusted at whim. For example, the shoes can be made 'cushier' or altered to provide a slightly firmer footing.
A computer-generated view of the shoe's innards
A contact sharing option also enable the shoes to trade information with other so-called smart shoes in the immediate vicinity, although exactly what information you'd want to share with another walker is anyone's guess.
Data can also be uploaded onto a PC from the shoes, presumably allowing you to prove to your personal trainer how far you've been walking each day - or something equally daft.
Pre-orders for pairs of Verb For Shoes are being taken now online by manufacturer VectraSense Technologies. But nothing's been said about the shoe's ability to eliminate stinky trainer syndrome…
Sponsored: Minds Mastering Machines - Call for papers now open