Sony demos 'commercial design' fuel cell for mobiles
Ready for prime time?
Sony has shown off a tiny fuel-cell prototype it claims will pave the way for a practical renewable power system for handheld devices.
The palm-sized cell is an active system, pumping water produced by the reaction at the negative electrode round to the positive electrode, where it mixes with the methanol fuel and reacts to produce electricity and carbon dioxide.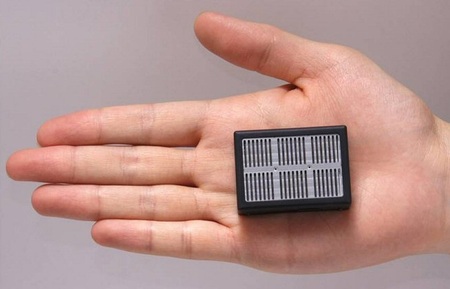 Sony's fuel cell
Image courtesy Tech-on
Sony said the cell can deal with sudden, sharp demands for power - a common characteristic of portable devices, which spend most of their timing idling between bursts of use. However, the Sony cell 'cheats' - in incorporates a standard Lithium Polymer battery to cope with steep peak power demands.
That, said Sony, allows the cell to deliver 3W of power almost instantaneously. At other times, the cell's output is presumably used to keep the battery's charge topped up.
According to a report on Nikkei publication Tech-on, Sony said the cell can deliver at least 14 hours' digital TV pick-up and playback on a tank containing 10ml of methanol.
Sony indicated the cell's design is essentially ready for commercialisation, but it gave no indication when this may take place.
Sponsored: Minds Mastering Machines - Call for papers now open