Intel wants to own the weather prediction business
EVP Maloney in charge of 'Operation Kill Groundhog'
Maloney downplayed this line of thinking, saying that even customers just trying to manage their photo albums will need plenty of processor muscle. He returned to that Minority Report theme, pushing for software that would let people shove photos around their desktops by touch.
"I think that people are going to spend a lot of time uploading and downloading data," he said. "That is multiple threadable and multiple coreable. At least out through the next five to seven years, I can't see any requirement to back off, and that's all we have ever been able to see."
Still, you can sense Intel and others' unease about the state of software by looking at their recent grants to academia. Intel has pumped millions into programs at Stanford, UC Berkeley and the University of Illinois to encourage parallel programming breakthroughs. Microsoft, Sun Microsystems, Nvidia, AMD, IBM and HP have joined Intel with some of these programs.
"Software is lagging, and it has always lagged the microprocessor," Maloney said. "It is not lagging as bad as it was in the era of the 386 for sure. We had a 16-bit OS forever, right? I think we just want to make it go faster."
That said, Maloney concedes that throwing eight- and 16-core chips at the desktop world might not make that much sense in the near future.
"Maybe we won't go there on the desktop in a short period of time," he said. "Maybe we will spend the transistor budget on other stuff. Maybe four cores will last another six years in the volume segment. We will optimize the cores and tweak the instruction sets and do all of that micro-architecture stuff. You don't have to immediately crank it up to more cores."
Speaking of cranked cores, how about that Apple buying PA Semi? A lot of people in the industry thought Intel was in line to slot its Atom processors into future versions of the iPhone. Such a scenario looks less likely now with Apple bringing in PowerPC and ARM expertise.
"Technically, it's accurate to say we were surprised because obviously Apple doesn't need to go ask our permission to do this sort of stuff," Maloney said. "But they do have a history of innovating in-house. This is just a further example of it. Our relationship with them continues to be stellar."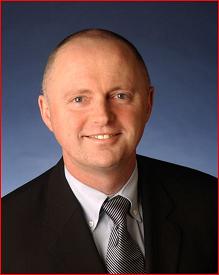 Sean 'Weather Man' Maloney
So, that Atom-based iPhone may still happen?
"Obviously, we talk about a full range of stuff," Maloney said. "We have a lot going on with them in a lot of different devices. They are a rapidly growing customers for us, so the glass is more than half full.
"Nobody owes you business, so we didn't see it as a middle finger. I think that was a sexy press angle, but that's not the way we saw it internally here."
Still on the silicon track, we hoped to make up for a lost opportunity during our recent interview with Otellini by asking the Big Question. How's that grizzled veteran of high-end computing Itanium panning out?
"It is a wonderful technology with a superb customer base," Maloney said. "We think it is another area for increased profitability. We have plenty of engineers on it."
Yeah, HP is a superb customer base.
"There are other customers," Maloney said.
But you guys will talk all day about how wonderfully profitable Xeon is. Is Itanium in the black?
"I am not a finance guy," Maloney said.
Ah, we thought so.
Well, it's best not to let Otellini have all the fun. Perhaps Maloney can become the Itanic King. ®
Sponsored: Minds Mastering Machines - Call for papers now open