Liven up poker games - with storage!
This time the house won't win
Next time you're playing poker over a few beers with the boys, you may want to look more closely at the chips. Because a USB flash drive has been invented that hides itself within a poker chip.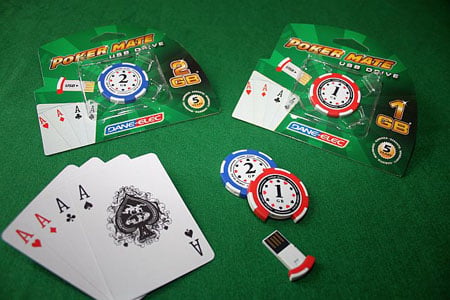 Poker Mate: the high capacity poker chip
Although the Poker Mate isn't likely to give you much of an upper hand in a game of Texas Hold 'em, the storage gadget does mean that you'll have plenty of capacity available if you need somewhere to download all your winnings to.
The chips come in a 1GB or 2GB capacities, and the USB drive slides out from inside of the chip, so unsuspecting players would never know it's there. Although they'll probably never trust you again as soon as they see it.
Poker Mate is available now in the UK, with the 1GB chip priced at around £10 (€14/$20) and the 2GB model set at £20 (€25/$40). But then again, we could be bluffing…
Sponsored: Application managers: What's keeping you up at night?