RIM clamshell BlackBerry spied on web
Ready to 'Kickstart' sales?
Research in Motion (RIM) has developed a clamshell BlackBerry - and pictures of the new email handset have already been pushed onto the web.
Codenamed 'Kickstart', the handset uses the SureType keyboard that's already used on the Blackberry Pearl. The Kickstart's internal display looks to about 2.5in and there's a smaller display on the phone's outer surface too.
A camera lens is integrated into the phone's lid and one picture also shows a 3.5mm headphone jack on the phone's side, meaning it's almost certainly set up for MP3 audio.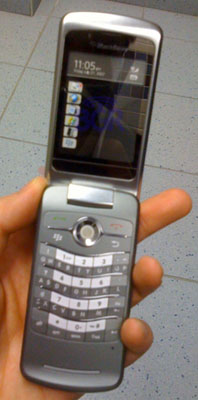 RIM's Kickstart: the first clamshell Blackberry?
Image courtesy BGR
RIM hasn't confirmed the phone's existence yet, but a report at website BGR has claimed that the manufacturer has been secretly designing a clamshell handset for some time.
The Kickstart could also feature an updated version of RIM's OS, Blackberry Device Software 4.6. According to another report, this time on Brighthand, the updated version will include a web browser that's able to support a wider range of content standards, including video content embedded into pages.
Improved camera software and an updated picture viewer will also make capturing and reviewing stills an easier process. It's also claimed that the OS' ability to locate and connect to nearby Wi-Fi networks has been overhauled.
The Kickstart could appear in stores before December, but where it'll emerge first or how much it will cost remains unknown.
Sponsored: Minds Mastering Machines - Call for papers now open