Toffs' phone maker goes loco over Rococo
A monetary masterpiece?
Vertu has used an 18th Century French art movement as the inspiration for its latest range of exclusive, overpriced handsets.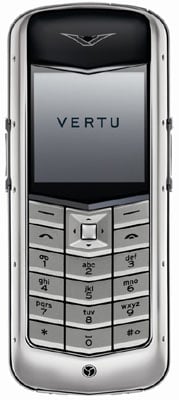 Vertu's Rococo handset in noir
The Rococo series, which is just one handset available in lots of different bodies, has been designed to celebrate Vertu's tenth anniversary. The series expands Vertu's 'entry level' Constellation range, but doesn't include any updated technical features. So you'll still get a quad-band GSM/GPRS/Edge phone with Bluetooth 2.0 and a five-hour talk time.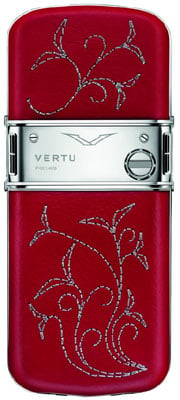 Elegant flower stitching features on the leather back
But technical specifications have never been the selling point of a Vertu handset. Instead, rich Reg readers can choose between a black, scarlet or ivory body for their own Rococo. In true Rococo style, an elegant and intricate flower pattern is stitched into the handset's leather backing, which also comes in several colour options.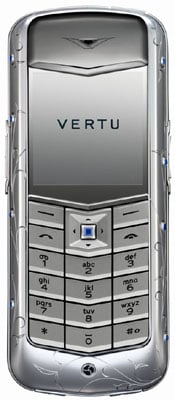 The Rococo sapphire edition has gems for screws
If that's not posh enough for you then a sapphire edition design features… ahem… a "cabochon sapphire centre button" and "cabochon sapphire screws". Cabochon, in case you're wondering, is a gemstone that's shaped and polished, rather than facetted like a diamond.
The sapphire edition also has a flower pattern etched onto the phone's front.
Prices haven't been announced yet, but if you need to ask... Whatever, we'll bet you a bag of cabochon sapphire screws that the Rococo range will be even more expensive than the iPhone.
Sponsored: Minds Mastering Machines - Call for papers now open