LG GGW-H20L Blu-ray HD DVD combo drive
Ready to run any HD disc on your PC
When it came to regular DVD writing on DVD+R, DVD+RW, DVD-R and DVD-RW media, there was nothing to choose between the old and new drives, taking six minutes to burn 4GB to write-once media and 14 minutes with rewriteable. Writing 4GB of files to DVD-RAM took the same 25 minutes as it had on the H10N drive.
Disc Writing Test Results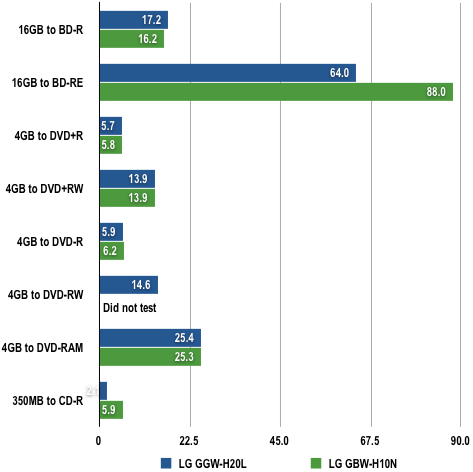 Writing time in minutes
Shorter bars are better
One area that showed a distinct improvement was writing to a humble CD-R. The H10N was shockingly slow in this regard, but the H20L is comparable with every other drive on the market.
In short, the GGW-H20L shows very little improvement over the H10N from 2006, although it has quickened the pace with BD-RE and CD-R. And the price is now far more reasonable.
The most notable advance is the support for HD DVD, but you can get that feature in the cheaper GGC-H20L combo drive, so the GGW-H20L stands or falls on its Blu-ray writing ability. The problem here is that while a 25GB, single-layer BD-R disc is capacious it is only a tiny fraction of the size of the hard drive in any modern PC or laptop so the idea of backing up to BD-R is ludicrous.
Dual-layer BD-Rs and BR-REs that weigh in at 50GB are tempting but, at £25, expensive for a single disc. However, they aren't supported by the LG so we can put that particular idea to one side.
Verdict
Blu-ray writing has a certain appeal but ultimately it's a bit pointless. Most people can't read a Blu-ray video disc, especially on their PC, and the format doesn't have enough capacity and write-speed - an a low enough cost - to put DVD-R in the shade.
For movie playback, a combo drive with both Blu-ray and HD DVD in a high-end media centre is a winner, but the GGW-H20L falls betwixt and between, as you pay £50 for a feature that may only get occasional use.
Sponsored: Minds Mastering Machines - Call for papers now open

LG GGW-H20L Blu-ray HD DVD combo drive
The LG GGW-H20L plays every type of disc you're ever likely to see and writes to every type of media apart from HD DVD-R.