Brits vote for useless gadgets
Manufacturers run scared
Obviously Register Hardware's writers love their gadgets, but some inventions leave us a little perplexed as to their point. And we're not alone, because a list of punters' most useless gadgets has been compiled.
The inventory was made after Reevoo.com questioned 4500 British shoppers about which gadgets they thought were the most pointless.
Electric nail-files led the poll and, although no reasons were given, many people could be put off by the gadget's ability to file your nails away to mere stumps at the flick of the switch.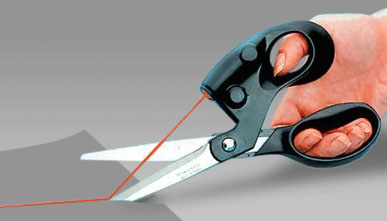 Laser-guided scissors: a little over the top?
Laser-guided scissors and electric candles fell into second and third place, respectively. The humble Soda Stream – a 1970s attempt at making fizzy drinks a ridiculously laborious process - fell into fourth place.
A lazy man's favourite, the trouser press, also featured on the list in position 11. But it isn't seen as pointless as the electric fluff remover, which took ninth place, or an electric carving knife – which turns carving the Christmas turkey into a Grand Theft Auto IV massacre.
Register Hardware's readers held their own poll of pointless gadgets back in February. The website's Q&A section received comments from readers shunning - yes! - the laser-guided scissors. Black and Decker's Autotape also received criticism because the electronic feeding mechanisum adds too much to the weight and size.
We can think of lots more useless, but somewhat cool, gadgets to add to the list too. For example, the Wi-Fi watch, a cassette that's also an MP3 player and Honda's walking gadget.
Sponsored: Minds Mastering Machines - Call for papers now open