Samsung shows off fourth-gen Blu-ray player
Vows to beat PS3
Samsung has shown off its next major Blu-ray Disc player release - and pledged to pursue its goal of dominating the HD player market aggressively.
The BD-P1500 builds on last year's third-generation player, the BD-P1400, essentially adding support for the latest Blu-ray technologies, including BonusView - the format's picture-in-picture system.
The new player also allows users to bookmark movie sequences for quick access at a later date.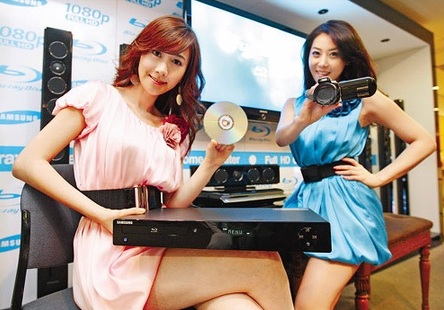 Samsung's BD-P1500 and friends
However, it's not yet clear whether it also supports BD Live, Blu-ray's online content linkage technology. Sony's most recently announced BD players will get BD Live support through a firmware update expected to be released in the autumn.
That timeframe suggests the Korean BD-P1500s may not get the feature, but the European version - almost certainly scheduled to be launched at the IFA consumer electronics show in Berlin next September - will get the feature.
Samsung also introduced the HT-BD2, its second 7.1-channel home cinema rig with built-in Blu-ray playback. Both machines offer full 1080p output through HDMI ports.
They'll also form the basis of Samsung's thrust to take the Blu-ray market leadership from Sony, which the Japanese giant currently enjoys thanks to the PlayStation 3. With HD DVD now no longer an issue, there's more to play for, and Samsung was clearly keen to convince World+Dog that it wants to knock the PS3 off the top spot.
Sponsored: Minds Mastering Machines - Call for papers now open