Lenovo ThinkCentre A61e green PC
Consumes less power than a lightbulb?
The PC comes with a basic selection of media software that consists of InterVideo WinDVD 5 and Sonic RecordNow 2 as well as PC-Doctor 5 and Diskeeper Lite. The ThinkCentre software is familiar to anyone who has used a ThinkPad laptop, but the truth is you need a bare minimum of tools to keep a basic desktop PC working properly.
Power Draw Results

Power Draw in Watt (W)
The performance of the system is fairly pathetic, but it is adequate for day-to-day duties. The surprise was how limp the Radeon X1200 graphics were compared to the X1250 core that we saw when we looked at the 690G chipset a year ago on the Asus M2A-VM motherboard - all reviewed here. Having said that, the A61e does give you the tools that you need to write e-mails, work on a spreadsheet or buy DVDs from Amazon.
And Lenovo's claim to eco-friendliness? It does have merit: during testing we found the power draw of the PC was 40W at idle and a mere 55W under load - well below the 130W the bundled power brick is capable of delivering. So, Lenovo, why didn't you include a smaller AC adaptor?
Would we recommend that you buy this small, quiet, relatively cheap PC? Well, no.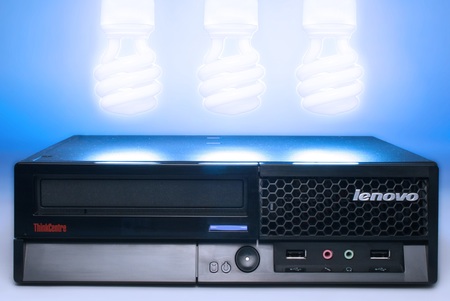 How green is my desktop?
The problem is that the A61e is cheap but it's not cheap enough. You can buy a comparable Dell Vostro 200ST with an Intel Core 2 Duo E4500 processor, 1GB of RAM, a 250GB hard drive and Windows XP for £175 plus shipping. You can get a 19in Dell TFT for £150. Granted, the Vostro isn't quite as small as the A61e and it won't be passively cooled, but it should be quiet enough for use in the home or office. Added to that the extra hard drive space and DVD burning capability, and the difference in price is telling.
Verdict
The ThinkCentre A61e is very basic and while it does a competent job it seems terribly expensive compared to a better-specced Dell Vostro.
Sponsored: Minds Mastering Machines - Call for papers now open

Lenovo ThinkCentre A61e green PC
Fancy a quiet, low-powered PC? Lenovo hopes you'll buy a ThinkCentre A61e, but we're not so sure.
Price:
£311.38 inc VAT for the PC. £231 for the TFT RRP