Supermarket offers phones for a fiver
No need to save
You don't get much for a fiver these days, but Asda has begun connecting people with a claim that it's punting Britain's lowest priced pay-as-you-go mobile.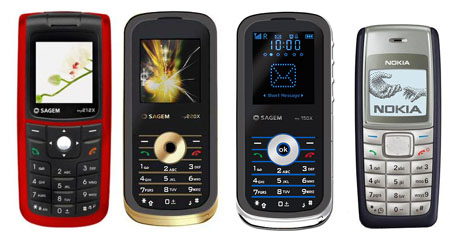 Asda £5 phones: Sagem's My212x (far left), My220x (left), My150x (right) and Nokia's 1112 (far right)
Stroll into one of the supermarket chain's store and £5 (€7/$10) will get you one of four phones that Asda claims "cost less than the price of a toy mobile" – which says a lot about the phones on offer.
A battered old fiver will get you Nokia's 1112, which doesn't have a camera or colour screen to speak of, or the equally basic but slightly more stylish Sagem my150x. Sagem's My212x and My220x complete the quartet.
The offer isn't available online, probably because the postage costs would be more than the phone...
Sponsored: Minds Mastering Machines - Call for papers now open