Alcatel presents rubber-key candybars
Cutting edge
Alcatel has launched three candybar handsets that feature several 'innovations' designed to make general phone use easier than usual.
The phones are the OT-S120, OT-S210 and OT-S211, and their refinements include rubberised keypads to make texting less troublesome - your fingers shouldn't slip off of the keys during rapid typing, for instance.
The OT-S120 is the most elementary of the three basic phones, because it only sports a 1.3in black and white display. The two other models both have larger, 1.5in colour screens. All three phones are about 12mm thick and are claimed by Alcatel to be "palm friendly".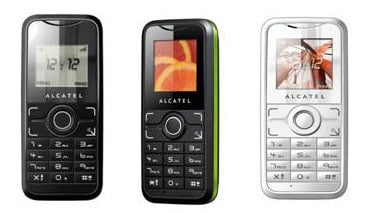 Alcatel's OT-S120 (left), OT-S210 (centre) and OT-S211
Each model is capable of dual-band GSM connections and will keep you chatting for up to five hours, the manufacturer claimed. But don't expect too much in the way of entertaining features because the highlights are one game and a calculator.
You can choose between a black or white body for each handset and optional summer-style trim colours can be added too, including "fuchsia pink" and "apple green".
UK release dates or prices for the three Alcatel handsets haven't been given yet.
COMMENTS
Agree with Jason, disagree with radian
Good for kids, good for music festivals, gigs, camping, abroad. Also good for people on a limited budget (so long as they are cheap).
So, radian, it's nice that you have so much money that you can piss it away on over-priced penis extensions like the Jesus phone, well done, ten points, but not everyone in the world is so fortunate. Why should the less well off not benefit from modern technology?
Good punishment phones
If you have kids who have a tendency to loose phones from time to time, a cheap, crappy phone like this is perfect-as long as they ring in under $30 or so, they're ideal. Couple months with basic texting, no MP3 music, no camera and they'll take AMAZING care of the next one, I promise.
crap.
The design team at Alcatel should be horse whipped and then sacked.
The day they come up with a nice looking phone I'll go out and buy a hat, then eat it.
Who the hell buys these things?