US Navy hands out $1bn robo-plane contract
Opts out of 'optionally manned' option
The US Navy has made a long-awaited decision and awarded a billion-dollar development contract for the autonomous spyplane which it will use for ocean surveillance in future. The so-called BAMS (Broad Area Maritime Surveillance) craft will be developed by Northrop Grumman using its existing, small-airliner-sized Global Hawk roboplane.
"This announcement represents the Navy's largest investment in unmanned aircraft systems to date," said Captain Bob Dishman, BAMS programme chief.
"This is a significant milestone for the BAMS unmanned aerial system."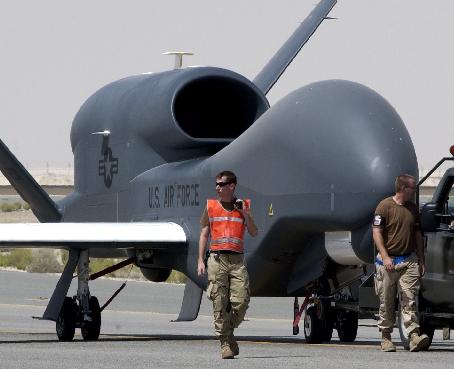 Walk faster, human minions. Global Hawk wants fuel
The BAMS aircraft are intended to deliver surveillance across wide areas of ocean in a similar manner to the US Navy's current fleet of landbased P-3 Orion patrol planes, or the UK's MR2 Nimrods. Such maritime patrol craft are primarily intended to fight enemy submarines, but in late years have often been employed in overland tasks.
The American Orions are now very old, and the USN is keen to replace them. There is a manned aircraft, the P-8 Poseidon, under development for this. The Poseidon will be based on 737 airliner airframes from Boeing. However, even the USN doesn't have enough money to fully replace its Orion fleet with Poseidons. Hence it hopes to supplement its future P-8 fleet with BAMS drones that should cost less to buy and operate.
Northrop's Global Hawk offering has beaten two other contenders. Boeing had presented a plan which would have used "optionally manned" Gulfstream business jets, that could be crewed if desired but would also be capable of flying themselves. There was also a Lockheed-led team proposing to use a version of the well-known Predator-B/Reaper drone.
Now, however, the Northrop Global Hawk has been selected as the winner. The jet-powered Global Hawk is one of the biggest and most capable robot aircraft around, able to make intercontinental flights and lurk above a warzone more than a thousand miles from its base for 24 hours at a time. Unlike the more famous Predator, it requires no pilot at the ground controls all the time - the Global Hawk is much more like a true robot aircraft. It has been in operation since the 1990s, and has been credited with many milestones and successes in US Air Force service.
The US navy likes robot aircraft at least as much as the US airforce, indeed probably rather more. Apart from BAMS, it already has plans for robot carrier planes and droid kill-chopper gunships.
The UK is going with a strategy not unlike that of the US Navy, in that the current MR2 Nimrods will be partly replaced by new MRA4s. However, there is no plan for a UK unmanned equivalent of BAMS. ®
Sponsored: Minds Mastering Machines - Call for papers now open