IBM shakes up the server game with lean, cool iDataPlex
Freaking rivals 10,000 units at a time
This iDataPlex box is in many ways a retaliation against systems put out today by the likes of Rackable, Supermicro and other white box makers. It's also a shot against Intel, which crafts custom, low-power motherboards for Google.
All of these companies have created compact, energy-efficient gear that appeals to service providers desperate to lower their hardware costs and power bills.
Companies such as RLX pioneered this push about eight years ago by pumping out blade servers that, for example, ran on Transmeta's laptop chips. Sadly, once the big boys got a hold of blades, they ran away from the low-power compact systems and toward fat, speedy boxes. So, this left a vacuum of sorts where companies such as Rackable could step in and cater to service providers.
Now, we're seeing IBM, Sun and Dell, which will build custom gear for service providers, realign their gear, and IBM appears to have the most dramatic take to date.
"The first blade systems were introduced by scrappy upstarts who defined the customer need, built the market, then got crushed by the big players who came in with faster product cycles, more engineering, and lower prices," Dan Olds, head of the Gabriel Consulting Group, told us. "The same thing is happening now - and the iDataPlex from IBM is the first Tier 1 system to aim directly at the large-scale web infrastructure market - much to the detriment of smaller players like Rackable.
"The key thing to keep in mind about this thing is that it's aimed squarely at the Web 2.0 market - vast number of servers, all running a small number of identical apps. What these guys really care about is TCO and ROI – what it's going to cost to buy and to run their gear. IBM hit the target with iDataPlex. It's extremely dense (less floor space), very power efficient, and runs cool - particularly with the rear door heat exchanger.
"Some of their competitors will respond with their version of blades, and thus miss the market entirely. Even though blades fit well into enterprise data centers, they aren't attractive to the web crowd at all , as they're too power hungry and too expensive."
You might think the service provider market rather niche and a low-margin battle not worth pursuing. IBM, however, seems convinced that more and more companies will do the software work needed to take advantage of this type of system.
"You look at something like blades with RocketLogix(RLX) and see that that was niche and then it became mainstream," McKnight said. "We are seeing that same model replaying now.
"If a customer is willing to write their application to tolerate hardware failures and to do without things like redundant power and cooling and RAID to prevent failures, then we can remove a lot of cost and energy and present a lower cost of computing."
IBM expects many of the business high performance computing customers to rework their software in this way and more or less take their clusters to the next level.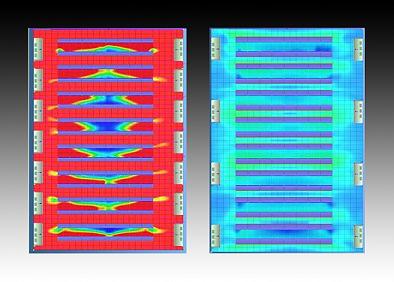 One of these is hotter than the other
If iDataPlex lives up to its billing, then IBM will certainly appear to have caught the likes of Sun, HP and Dell off guard.
To its credit, Sun pushed the container model early, and IBM admitted that customers are demanding these types of boxes. Sun also has very compact, memory-rich designs, but we've yet to see something that equates to iDataPlex. Meanwhile, Dell will sell you a bespoke motherboard with low-power chips and memory but certainly not a double-stuffed, double-rack. And, over at HP, we find the company concentrating on improving data center design through various cooling systems but not really shipping any of this new service provider-friendly gear. (As we understand it, HP has partnered with Rackable on a number of deals in the past.)
We're still not convinced about the long-term prospects of these vendors beating each other up for lower and lower margins as the data center build out continues. The prize for winning this contest seems to just be a gutted business unless you can convince these customers to shell out for software and services. Sadly for the vendors, most of the customers seem happy to do a lot of open source work on their own.
But the journey to guttation should be an interesting one, and iDataPlex has set us on our way. For that, we'll forgive IBM for the product's name. ®
Sponsored: Minds Mastering Machines - Call for papers now open