Google tips hat to St George - finally
By the Lord Harry
We're delighted to announce that Google has, after several years of nagging, finally got its act together and acknowledged the patron saint of hoodies, speed cameras, overvalued property, and binge drinking.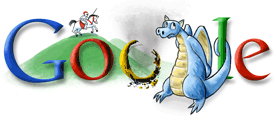 Yes indeed, it's beers all round at the Googleplex for restoring English pride in cyberspace and avoiding the terrible consequences of once again snubbing our blessed nation.
Vulture Central will, of course, be celebrating this evening in the traditional manner - 16 pints of Britannia fighting lager followed by a kebab, some fisticuffs, a night in the cells, and a quick appointment with the beak for the presentation of the commemorative Asbo.
Any reader wishing to join us should make his way to the public bar of the Alcopop and Scratchcard at about 8pm. Please leave your lances at the door. ®
Sponsored: RAID: End of an era?