AudioEngine AW1 wireless music system
Transmission impossible?
A note to potential buyers: make sure you connect the transmitter to an output whose level you control, or use 'phones with their own volume buttons. We connected it initially to a TV which bizarrely feeds its headphone socket at maximum volume. Plugging the cable into a hi-fi instead yielded a much less eardrum-busting sound.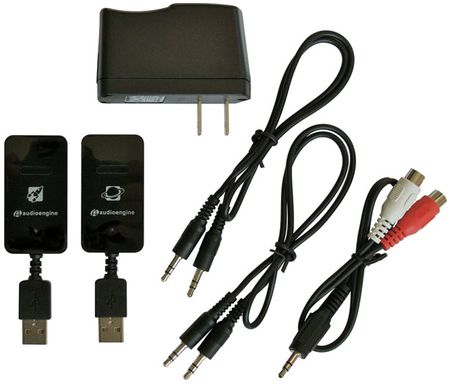 The complete package
We tried the AW1 set out in the living room first, before moving upstairs. We'd left the hi-fi playing, and got sound out of the receiver almost as soon as we'd plugged it and its AC adaptor into a power socket. The pick-up was effectively instantaneous.
During testing, we had two laptops connected to our 802.11n wireless network, both of them accessing a WLAN-connected shared hard drive. So plenty of scope for to keep the 2.4GHz band busy there. Just to be sure, we put the microwave on too. There's no shortage of other wireless networks in the vicinty, either.
We couldn't test the AW1s at the full extent of their claimed range, but we got full coverage throughout three floors of Victorian terraced house. Putting transmitter and receiver as far apart as we were able, we got clear sound, whatever audio source we used. CDs sounded like CDs, not MP3 files. There was no indication that it was hindering the WLAN.
During the time we used the AW1s, we encountered only one drop-out. It lasted only the briefest of moments, and until that time - and from then on - we got great sound out the set. But it goes to show AudioEngine can't, alas, guarantee glitch-free listening.
Verdict
The AW1 sets out to transmit music wirelessly at CD quality, and it achieves that. We can imagine performance being admirable in big, well-constructed US homes, but in old European housing stock, where there are far more opportunities for dead spots and excessive interference, it's less successful.
Still, in all but the busiest of wireless network environments, the AW1 should keep the music flowing smoothly and clearly, at a higher fidelity than you get with most Bluetooth or Wi-Fi streamers. And the product's ease of use and the speed at which the two units connect ensure it a place in our audio set-up.

AudioEngine AW1 wireless music system
High quality wireless music streaming, that's quick and easy to use.
Price:
$149 (£76/€94) RRP