Kodak dusts off 'smudge-free' digital frames
Pledges perfect prints
Kodak has developed a range of digital photo frames that lets users select images without leaving their grubby paw prints over the touchscreen.
The 7in P720, 8in M820 and 10in M1020 each feature a white "Quick Touch Border" that runs along the bottom of the frame. When pressed, scaled-down copies of images stored on, say, an SD card or USB Flash drive appear on the frame's screen. Because users select images with the interactive border, they don't have to touch the display area.
Hence no mucky marks.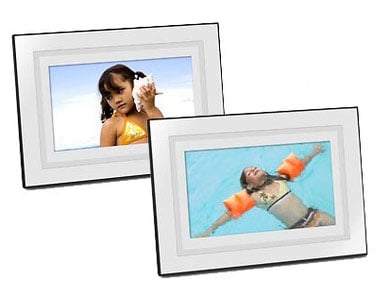 Kodak Easyshare: touch the frame, not the display
Kodak's 8in and 10in models also have speakers built in behind their frames to let you pump out some holiday tunes along with your snaps.
All three 16:9 aspect ratio frames have two memory card slots and support both still images and video. Any frame can be mounted on a table or hung from a wall.
Kodak's Easyshare digital frames will be available next month, with prices ranging from £65 (€90/130) to £150 (€175/$300).
COMMENTS
"Why are these frames always 16:9?"
It's because that's the cheapest aspect ratio of LCDs, with the economy of scale of producing for everything from mini laptops to portable DVD players. It used to be the case that only the very cheapest photo frames were 16:9, but they've now sufficiently conditioned us into believing "wide-screen is best for everything" that they can get away with it on more expensive models too.
Why are these frames always 16:9?
Am I missing something obvious? I take pictures which are nearly always 3:2 or perhaps 4:3, so why should I want them to be stretched to fit 16:9?