Hauppauge pitches PC TV tuner at Freesat punters
Freeview by satellite
With Freesat, the satellite telly answer to Freeview, just weeks from launch, TV tuner specialist Hauppauge has begun punting a USB-connected box capable of picking up the free content - even Freesat's HD broadcasts.
The WinTV Nova-S USB2 bridges the gap between a Windows PC and the feed from a standard satellite dish - Freesat will broadcast its 80-odd TV and radio channels from the same Astra satellite used by Sky.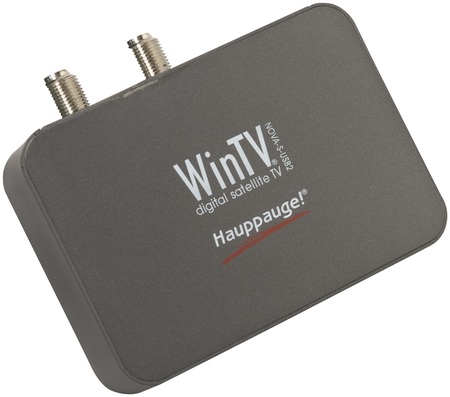 Hauppauge's WinTV Nova-S USB2: ready for Freesat
Hauppauge is bundling the tuner with its usual array of DVR software and DVD burning tools, along with a remote control.
The unit can connect to Hauppauge's own WinTV-CI modile, which accepts subscription channels' decoder modules and smartcards.
Freesat is due to be launch this Spring by the BBC and ITV, both of whom will offer HD content alongside the usual standard-definition programming also available on Freeview. Freesat will be available with a single purchase that includes a set-top box, dish and installation.
Available now, the WinTV Nova-S USB2 requires a full USB 2.0 port on your CP and comes with an asking price of £80.