The telly's an Armani, dahling
Smashing! Super! Sweetie!
Samsung and Armani aren't talking to one another today, because the electronics giant and the fashion house are too busy watching the co-branded LCD TV they've paraded down a Milan catwalk.
The two companies announced plans to create an Armani telly back in September, when the pair launched the Armani-branded Samsung P520 phone. The 1080p LCD TV comes in 46in and 52in screen sizes, both with an integrated stand.
Fashion obsessed telly addicts… ahem… "benefit" from a four-mode lighted power switch that lets users customise the colour of the Armani and Samsung logos placed lovingly onto the TV's front.
The TV comes with two remote controls: a simplistic pebble-shaped one and another that features backlighting, but which can control all of the telly's functions.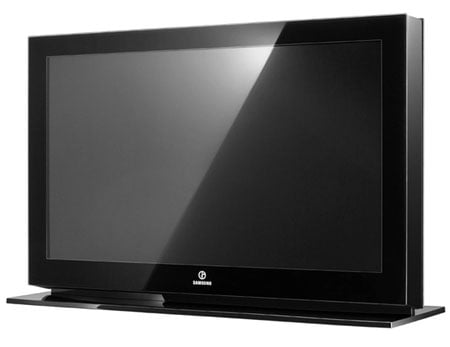 Samsung's and Armani's TV: anything special?
Giorgio's telly design was apparently based on his 2008/09 home furnishings collection and he said that people no longer want to hide TVs in the corner of the room because of the advances in TV technology, such as flat screens. And the presence of an Armani logo, eh, Giorgio?
Both screen sizes have a 100Hz refresh rate and incorporate an unspecified number of HDMI ports, allowing you to connect the telly up to your equally fashionable PlayStation 3 or Xbox 360.
The 46in model will be available in Europe mid-summer, although the 52in model won't appear on hangers shelves until later on in the season. Prices haven't been given yet.
Sponsored: Minds Mastering Machines - Call for papers now open