Utah boffins in terahertz spybeam infra-computing quest
T-rays. Is there anything they can't do?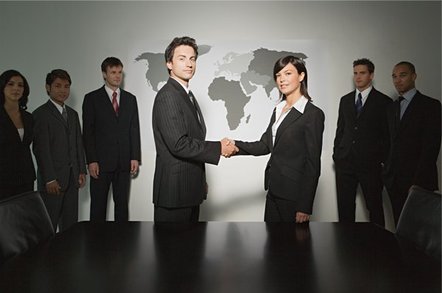 Boffins working at the University of Utah say they have one-upped London-based researchers in the race to perfect "T-ray" powered computers. Terahertz radiation, or T-rays, could drive powerful circuitry in a similar fashion to photonic optical machines seen by some as a likely successor to current (cough) electronic kit.
"We have taken a first step to making circuits that can harness or guide terahertz radiation," said Ajay Nahata, Utah associate prof. "Eventually - in a minimum of 10 years - this will allow the development of superfast circuits, computers and communications."
Rival boffins at Imperial College in London demonstrated some basic T-ray handling techniques in February, using "metamaterials", the stuff from which Imperial boffins have said it might be possible to construct the long-sought invisible shed.
Nahata says his methods are far more advanced. The Utah uni press release says: "The London researchers did not actually manipulate the direction the terahertz radiation moved, such as by bending or splitting it."
Nahata adds: "We have demonstrated the ability to do this, which is a necessary requirement for making terahertz guided-wave circuits."
Optical computers using visible light are still pretty much at the experimental stage, but many topflight brains think they might overcome the limits of ordinary electronics.
Photonics could offer superfast operations, which would be nice as miniaturisation of electronics is thought to be reaching its practical limit - and thus, electronic computing speeds in regular chips are becoming harder to enhance.
T-ray based gear might offer similar benefits, possibly even more significant in some applications. Terahertz radiation lies in one of the few remaining unused portions of the electromagnetic spectrum, between the far infrared and microwave-radio.
Terahertz tech can also be used in security scanners, as human bodies naturally emit T-rays while explosives, ceramics, etc don't. Various firms are seeking to use sensors which can spot nonmetallic contraband hidden beneath people's clothes in true spy-fi style, without needing to light them up using cancer-prone X-rays or employ manual grope techniques.
Read all about it from Utah Uni here. ®
Sponsored: Minds Mastering Machines - Call for papers now open