X-48B mini flying-wing drone prototype resumes testing
NASA/Boeing mantacraft model pulls in slats
A NASA/Boeing project working on the aerodynamics of proposed "blended wing body" (BWB) flying-wing-esque aircraft has entered its second phase of flight tests.
The test programme is using one-twelfth-scale model aircraft, manufactured in the UK and remotely controlled from the ground.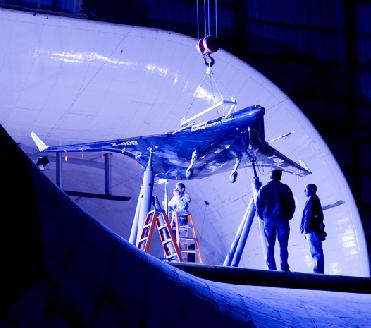 The NASA model-plane club were the envy of nerds worldwide
Flight International reports on the restart of BWB testing at NASA's Dryden Flight Research Centre in California, following initial flights last year.
The miniature (though still 21 feet across) prototype BWBs have now been modified into a different configuration, mimicking the action of retracting slats which - on a full-scale aircraft - would be controllable in flight.
The US Air Force, interested in the project, has given them an X-plane experimental aircraft designator, X-48B. NASA has also dubbed the flying "ship 2" airframe "Skyray 48". ("Ship 1" was built for windtunnel use, and as a spare.)
"With slats retracted the take-off and landing approach speeds are about 70 knots (129kph), [which is] 15 knots higher than with slats extended," Boeing X-48B boffin Norman Princeon told Flight.
Boeing and NASA reckon that BWB airframes could be quieter and more economical than ordinary jets. The X-48B prototypes, built by Blighty's Cranfield Aerospace, are intended to gather details on the performance that could be expected from full-size jobs. They are scaled down from a conceptual 450-passenger airliner design, though in reality Boeing would expect any initial production orders to be for US Air Force transports or tankers.
Many designs for flying wings or partial flying wings have been produced in the past, and quite a few have flown; but none thus far have matched ordinary tube-and-wing airframes in terms of costs to do a given job. (Except perhaps the B-2 stealth bomber, and now even this faces rivalry from more normally-configured stealthy designs).
The BWB shape represents an intermediate step between ordinary planes and pure flying wings, and many engineers have high hopes for it - in particular regarding noise limitation, nowadays a high priority in commercial aircraft designs.
A different BWB design is being pursued by an alliance of boffins from Cambridge University in the UK and America's MIT.
Regarding the X-48B, it seems that "Ship 2" is currently low on endurance, meaning that test flights are short. Boeing has proposed extending the test programme to make up for this, and suggested changing propulsion systems.
At present the X-48B is fitted with fuel-guzzling mini turbojets, rather than the more economical high-bypass engines which would drive a full-size version. Boeing reckons it could modify model-aircraft turboprops into miniature turbofans, so getting better fuel mileage out of the BWB and more data from test flights.
NASA engineers also have plans of their own for fiddling with the design and playing with it more extensively. However, at the moment there are no funds in place for any extra tinkering. ®
Sponsored: Minds Mastering Machines - Call for papers now open