Canon punts portable printer portfolio
Take a hike, PIXMA iP90v
Canon has updated the PIXMA iP90v portable printer with a next-generation model that's claimed to be equally handy, while producing virtually grain-free prints.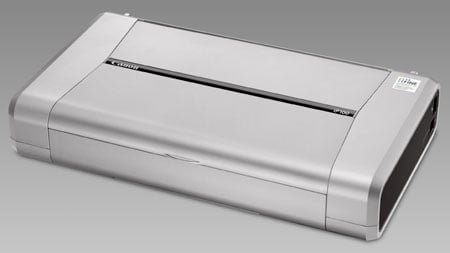 Canon's iP100: improved print speed and quality
The PIXMA iP100 improves on the iP90v's 4800 x 1200dpi print resolution to 9600 x 2400dpi. Whereas the earlier model had a four-ink system, the iP100 uses five inks - the regular cyan, magenta and yellow, plus two black inks: a fine-pigment black for sharper text printing, Canon claimed, and black for "enhanced photo quality".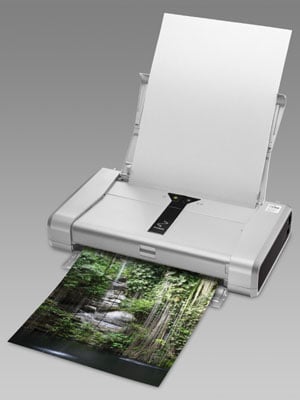 Prints can be made over Bluetooth, PictBridge and USB
Mono documents can be printed at up to 20 pages per minute (ppm) and colour documents at 14ppm, which is a slight improvement on the iP90v's 16ppm for mono and 12ppm for colour. Canon also claims the iP100 can print 100 x 150mm borderless photos in around 50 seconds.
The latest model weighs in at 2kg, making it slightly heavier than the predecessor. But the iP100 still allows documents to be printed through four USB 2.0 ports, Bluetooth or over PictBridge.
Canon's PIXMA iP100 will be available in the UK around the middle of next month, with a basic price of £200 (€230/$400). The printer is also sold with a battery pack for £250 (€280/$500).
COMMENTS
Yes we do
I have one for mobile ambulance command, as my vehicle isn't large enough to run a 240v generator, and sometimes I need to generate documents on site such as maps or checklists to give to crews then going away from the vehicles.
I would imagine some sales reps needing to produce A4 documents on headed paper etc for a customer to sign there and then may also do this, again their Mondeo's can only carry so much...
People still buy portable printers?
I thought portable printers started to die when portable internet started taking off...