All because the lady loves... er... memory cards
Mirror shine, USB interface
Storage has finally been given a feminine touch, with the introduction of an MMC/SDHC card reader and integrated compact mirror.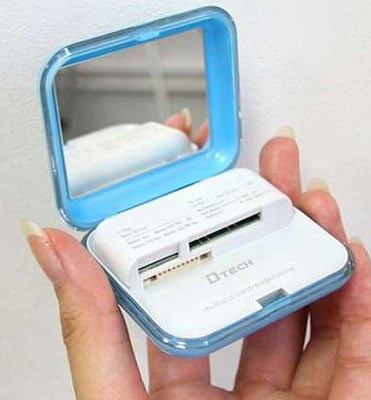 The USB Mirror Card Reader: makes storage look good?
As bizarre as it sounds, the USB Mirror Card Reader actually allows you to check that your hair and make-up are still sitting perfectly as you transfer data.
The 64 x 55 x 20mm unit also supports the Memory Stick Pro, Duo, Pro Duo and Micro; Mini SD and Micro SD storage formats, and connects into portable devices over an integrated, fold-away USB 2.0 cable.
If you're into storage and good looks, then USB Mirror Card Reader is available now online in silver grey or duck egg blue for $15 (£8/€11).
COMMENTS
Analog AND digital imaging....
Of course, the logical extension of this school of thought is a compact with a tiny, tiny camera and a mirror-sized LCD screen - the idea being that milady could have a corrected view of her makeup instead of the virtual, reversed image given by an actual mirror... and it plays SD chips back, too.
The economic lines will cross when it becomes less expensive to knock off a high-resolution LCD screen that size, wired up to a single-chip camera/image processor built into the screen itself than it is to make an actual mirror. We'll see them made in rolls to be trimmed and pasted into thin plastic frames.
Eventually, the words "digital is cheaper than analog" will be a truism, too obvious even to speak aloud.