For our battery test we ran continuous loops of PCMark05 and expected that Penryn would have a small advantage so it came as a real surprise to see battery life increase from 56 minutes with the T7800 to one hour seven minutes with the T9500. That's about 20 per cent which is simply startling for nothing more than a processor change.
Battery Life Results

Battery run-time in Minutes
Longer bars are better
As a rule of thumb you should double those battery life figures to get an estimated real-world figure as we hammered the battery without mercy during the run-down.
It was noticeable that the CPU cooling fan would operate in fits and starts even when the laptop was under a light load, running just the Windows desktop. It seemed that the fan ran less often with the T9500 than with the T7800, and while that's a personal judgement the noise of the Rock was less annoying with the Penryn installed.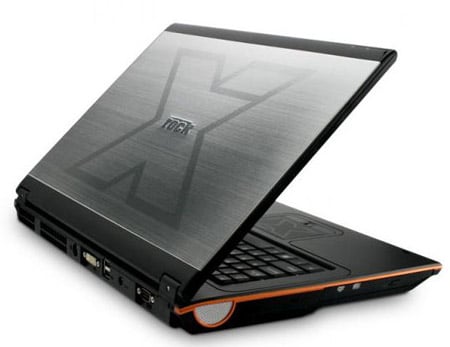 Better battery life with Penryn than with Merom
Best of all we cannot see a downside to mobile Penryn. It's all good news.
Verdict
Mobile Penryn may seem like a minor update to Merom and, indeed, the increase in performance the new 45nm part offers is small. However, Penryn delivers a very welcome boost to battery life.

Intel Core 2 Duo T9500 mobile 'Penryn' processor
Rock updates its X700 laptop with the top-end mobile 'Penryn' Core 2 Duo and delivers an impressive battery-life boost.
COMMENTS
Re: @Rik
Who would shell out that much cash for a gaming laptop at all? For that much you could get an exceptionally ridiculous amount of gaming desktop. Have you ever tried loading levels off a raid 1+0 of 15krpm SAS drives on a really high end controller? You could get that kind of hardware, plus all the crazy video cards and a quad core for the price of this laptop.
Or you could pay probably 1/4 the amount of the laptop to get a desktop with similar specs.
Portables and games just don't go together. Doesn't make any sense.
@Rik
...a point which I thought was well made in the article when it was pointed out that the CPU was hammered in testing and you could probably double the battery life figures for less intense use.
More pertinent might be to wonder who on Earth would shell out the thick end of two grand on a gaming laptop to run office apps on though?
Surely
CPUs are generally idle more than they are busy when people are doing office work, so it would have been better to measure battery life under such conditions.