Nvidia powers up GeForce 9800 GTX, nForce 790i
Company makes three (graphics) card brag
Nvidia has rolled out its GeForce 9800 GTX graphics card, a couple of weeks later than anticipated. It also formally unveiled the nForce 790i series of chipsets.
The 9800 GTX contains 128 unfied shaders running at 1688MHz - the GPU's core as a whole is clocked to 675MHz. The chip connects to 512MB of GDDR 3 memory over a bus that's 256 bits wide. The memory is clocked to 1100MHz yielding a memory bandwidth of 70.4GB/s.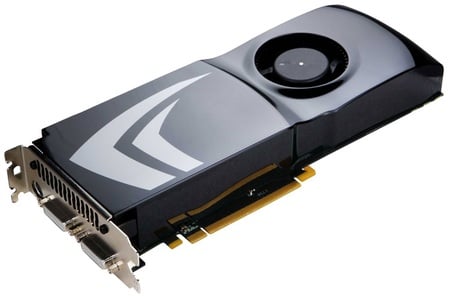 Nvidia's GeForce 9800 GTX: fast
Nvidia said the GPU can fill textures at a rate of 43.2bn every second.
The company's two-slot reference design incorporates a pair of dual-link DVI connectors and an HD TV output port.
The 9800 GTX supports Nvidia's HybridPower technology, allowing it to be powered down when it's connected to an compatible motherboard based on an Nvidia integrated-graphics chipset. When the 9800 GTX's horsepower isn't required, the lower-power integrated GPU takes over on the fly.
The 9800 GTX is also ready for two- and three-card SLI set-ups.
Nvidia said the new graphics chip will debut on boards priced in the $299-349 band. To get the best out of the GPU, the company claimed, you'll need an Nvidia nForce 790i Ultra SLI-based motherboard, which was formally launched yesterday too.
You can read Register Hardware's review of the 790i Ultra here.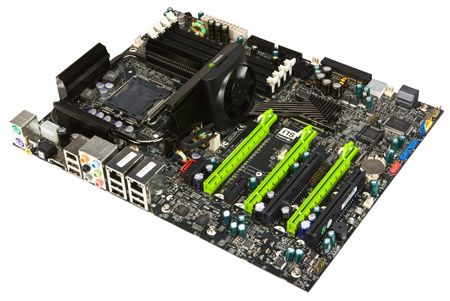 nForce 790i Ultra SLI: three-card brag
The 790i supports LGA775-socketed Intel processors running on a 1600MHz frontside bus. It connects the CPU to two channels of DDR 3 memory, and two x16 PCI Express (PCIe) 2.0 graphics card slots and one x16 PCIe slot.
The chipset's I/O component provides a pair of Gigabit Ethernet controllers, support for up to ten USB 2.0 ports on the motherboard, six 3Gb/s SATA drives in a variety of RAID modes, two parallel ATA drives, and HD Audio.
Boards based on the nForce 790i SLI Ultra are priced around £250/$300.
Related Review
Nvidia nForce 790i SLI Ultra


COMMENTS
Id wait as well
As benchmarked by hexus it does not out perform the 8800GTX it is actually worse in some cases which is scary.
I'd wait til nvidia get 55nm GPU's out. It might help quieten the loud fans.
Old news
The 9800Gtx has been available in retail stores in Australia for a week.
It's about $375 in a cheap shop - thats a lot less than 200 UK pounds. Performance is better than the 8800GTX, but not a lot better. It's 512mb memory is blamed for it not being quicker in some games.
Word is that the replacement to the 9800GTX, due by Xmas, is a LOT quicker.
Think I'll wait...
...for the 1gb version. It'll probably be a bit cheaper by then as well.