Is this the ultimate gaming keyboard?
alt;space/geekchic
Sometimes a product's name says it all, so what better label for the latest geek chic gaming keyboard than Cyborg?
The keyboard looks like something you might see on the bridge of the new Battlestar Galactica, thanks to the multi-tapper's angular shape, dashboard control panel and groups of backlit keys. The red, green and amber backlights are designed to highlight the most frequently used gaming keys, such as the spacebar - should you have forgotten, mid first-person shooter frenzy, where it is.
Cyborg's dashboard, mounted up above the keys, is touch-sensitive and allows the keyboard to be instantly converted from a normal, Office-friendly keyboard and into one designed especially for gaming, although it doesn't change shape like a Transformers robot, alas, even though it looks like it might.
For example, gaming mode disables the Windows Start menu keys in case you press them accidentally during a Far Cry session.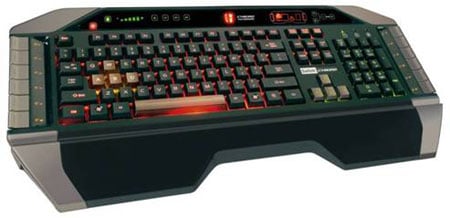 Saitek's Cyborg keyboard: backlit keys, touch-sensitive dashboard, but no cupholder
Gaming mode allows users to alter which keys are backlit, what colour they are and how brightly they shine – because nothing should distract your attention from the on-screen action.
Different set-up preferences can be recorded using software bundled with the keyboard. Complex commands, such as infinite ammo cheats, can be assigned to a single key, removing the need for you to remember A, B, B, X, P, Q, 4, I, 9 etc.
The Cyborg keyboard is available now for around £60 (€80/$120).
Sponsored: Minds Mastering Machines - Call for papers now open