Toshiba samples Cell-based HD GPU
PS3-sourced video-oriented chipage
Toshiba has begun sampling the graphics chip it hopes will beat Nvidia and AMD at the GPU game: the Cell-derived SpursEngine SE1000.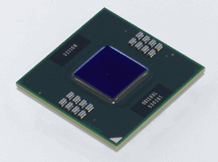 Toshiba's SpursEngine SE1000:
Oddly named it may be, but the SpursEngine packs in four of Cell's Synergistic Processing Element (SPE) cores. Cell has up to eight SPEs to handle vector data, along with a PowerPC-based general purpose computing core for everything else.
Each SPE is a SIMD Risc processor specialising in single- and double-precision floating point maths. The SE1000 also has a memory controller on board that links the SPEs to 128MB of Rambus XDR memory over a bus capable of pushing data at 12.8GB/s.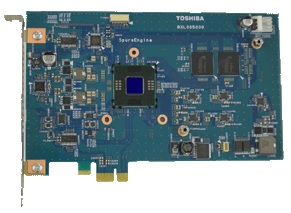 The reference board
Toshiba also said the chip is capable of MPEG 2 and H.264 encoding and decoding at 1080p full HD resolution, and those are the applications it's pitching the product at rather than 3D graphics. It said it's partnering with the likes of CyberLink, Leadtek and Corel - all makes of widely used PC-oriented video playback apps - to add support for the SE1000 to their software.
The SE1000 reference card fits into a 1x PCI Express 1.1 slot and runs the GPU at 1.5GHz. The chip's capable of 48GFlops, Toshiba said - 12GFlops per SPE. The card consumes just 10-20W of power.
The Japanese giant said it hopes to sell 6m SE1000s in the first three years of the chip's general release. It announced SpursEngine in September 2007.
Sponsored: Minds Mastering Machines - Call for papers now open