Alienware Area 51 ALX CrossFireX gaming PC
How much does it cost..?!
The likeliest explanation is that CrossFireX is new and Alienware's still getting to grips with it. That suggests a driver update is in order, but it seemed appropriate to update the BIOS first. The Asus motherboard had version 0601 installed while the latest on offer was 1109. The update went smoothly, the system rebooted and... the RAID array vanished.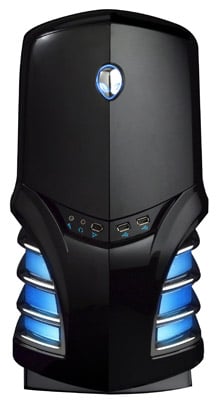 Despite the fearsome price this PC doesn't come with a display or speakers
Integrated RAID controllers are fickle things and you mess with the BIOS at your peril, but the fact is that graphics performance was none too hot out of the box. It may have been more prudent for us to have updated the graphics drivers before monkeying with the BIOS, but sooner or later anyone who owns a high-end machine with a high-end Asus motherboard will update the BIOS and then... like that, it's gone.
As we mentioned earlier RAID 0 as a bootable drive seems like a poor idea but you have to wonder why Alienware didn't allocate some cash on a dedicated RAID card that would separate the RAID controller from the motherboard BIOS.
Verdict
On the matter of the cost, the Area 51 ALX CFX would seem to be incredibly expensive. At retail, you'd pay £1100 for the CPU, motherboard and memory, £600 for the pair of X2 graphics cards, £150 for the hard drives, £20 for the DVD writer and £120 for Windows. That's £2000 in all, and if you add in around £600 for the cooling system, chassis and power supply and some cash for the mouse and keyboard then you're still a long way short of the £3624 Alienware is asking for this baby.
The jury is still out on CrossFireX, and on this early showing you'd have to be very brave to sink such a huge pile of cash on the Area 51, despite its good looks.
Sponsored: Minds Mastering Machines - Call for papers now open

Alienware Area 51 ALX CrossFireX gaming PC
Stunning looks aren't enough to cover the performance issues and colossal asking price.