Alienware Area 51 ALX CrossFireX gaming PC
How much does it cost..?!
The hard drive bay accommodates up to four drives across the case that makes it easy to connect the SATA cables with an 80mm fan to keep the bay cool. In the review system, Alienware chose to install a pair of 500GB Seagate 7200.10 drives in a 1TB RAID 0 array on the integrated Intel RAID controller.
This struck us as a poor choice, as the increased performance of RAID 0 is more than offset by the risk of failure. The array will be destroyed if either drive or the RAID controller on the motherboard fails - that's three potential points of failure. With a single drive you avoid some of that risk, and a single terabyte drive can be absurdly cheap - see our round-up, here.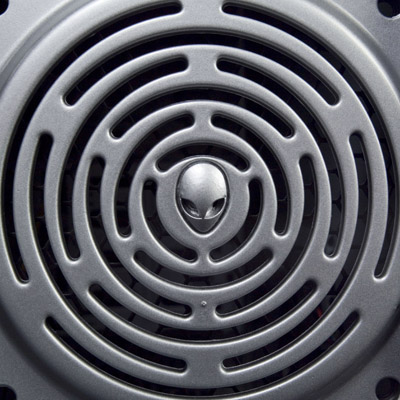 Target the thermal exhaust port...
The Area 51 ALX CFX's other components are an Asus P5E3 Deluxe Wi-Fi AP motherboard with 2GB of 1333MHz DDR 3 memory from Patriot, and an Intel Core 2 Extreme QX9650 CPU. Alienware overclocks the processor from the standard 3GHz to 4GHz by the simple expedient of raising the clock multiplier from 9x to 12x. The CPU voltage is raised from 1.3625V to 1.55V, and the memory is powered at 1.7V with low latency timings of 7-7-7-20.
Keeping it all under control there's a small water cooling system that sits above the CPU socket inside the rear of the case with a 100mm fan that exhausts at the rear.
That's the housekeeping out of the way, so let's turn to the CrossFireX graphics that uses a pair of Diamond HD 3870 X2 graphics cards with 1GB of DDR 3 and two Radeon HD 3870 GPUs on each card. Unsurprisingly, Alienware has specified a hefty power supply, rated at 1000W. The graphics cards effectively fill the bottom of the case, leaving just one PCI slot and one PCI Express x1 slot available for expansion. There's room to install a sound card, but as things stand you'll probably be relying on the integrated SoundMAX audio.
Sponsored: Minds Mastering Machines - Call for papers now open