Sun primes de-dupe for VTL lineup
VTL Prime: eliminate redundancies and roll out!
Sun Microsystems is today offering its first de-duplicating virtual tape library (VTL), and giving its existing VTL boxes a round of upgrades for good measure.
The open source gospel barker now has three pillars to its StorageTek VTL lineup: the VTL Value, VTL Plus, and the new data de-duplicating VTL Prime. Sun's Value boxes get bigger disks in the revamp, and Plus upgrades to meatier servers than before.
Prime is Sun's first VTL to feature The Autobot Matrix of Leadership baked-in de-duplication software. The technology comes from an OEM deal with FalconStor — which has similar VTL de-dupe partnerships with EMC and IBM, amongst others.
There are five models of VTL Prime. Three make up the R-Series, which uses the SunFire 4200 server and StorageTek 2540 array. The speedier C-Series is based on the 4600 server and the StorageTek 6140 array.
An entry-level model comes with 3TB raw capacity and starts at $40,000. Prime scales to 64TB raw capacity in higher end models.
Throughput is 120MB/s to 400MB/s depending on the hardware. This is notably slower than the VTL Plus, which according to Sun's senior product manager for VTL, Dan Albright, positions Prime as a — er — secondary tier of storage for larger businesses.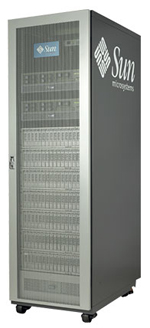 VTL Prime
"For customers of scale, the best practice is to first invest in a VTL Plus for backup and have a process to migrate to VTL Prime for capital expenditure savings," said Albright.
Sun still pitches Prime as a stand-alone VTL system for small offices or remote sites that need to replicate data to and from a central office.
FalconStor uses post-processing for de-dupe, meaning redundant data is eliminated after the backup has been loaded unto the disks. This competes with the in-line approach, which de-dupes as the data is sent there. Although El Reg has witnessed heated debate on which technology reigns supreme, Sun appears apathetic on the issue.
"From a customer viewpoint, we found it really doesn't make a difference," said Albright. "Some vary in how they are dependent on memory and CPU, but we find it's marginal."
Sun also doesn't take much issue on arriving so late to the de-dupe scene. Albright said the company typically sells their VTL systems to the mid-range enterprise space, which is a sector the company feels is just now looking into data de-duplication seriously.
"Our introduction now is right in the sweet spot for those sizes of environments," said Albright.
VTL Value
Meanwhile, the lower end of Sun's virtual tape library systems are getting fitted with larger disks.
VTL Value is adding 750GB and 1TB drive compatibility, for new maximum capacities of 36TB and 48TB. Previously, the Value line only offered max capacities of 12TB and 24TB.
VTL Plus
Plus systems, which were formerly based on Sun Fire V40z servers, are being updated to use SunFire X4200 and X4600 servers. This doubles the performance of the previous models, with throughput ranging from 700MB/s to 2,200MB/s. Virtual images are effectively doubled, for a total recognition of up to 512 virtual tape drives and 128 tape libraries. Total number of virtual volumes is upped to 64,000.
Sun has also integrated Plus closely with the NetBackup data protection suite from Symantec Corp. Data transfers from the software can be handled by the VTL Plus processors, taking the work away from the server CPU. According to Albright, Sun will be expanding this capability to other backup software offerings in the future. ®
Sponsored: Minds Mastering Machines - Call for papers now open