Nvidia nForce 790i Ultra SLI chipset
Powerful but very pricey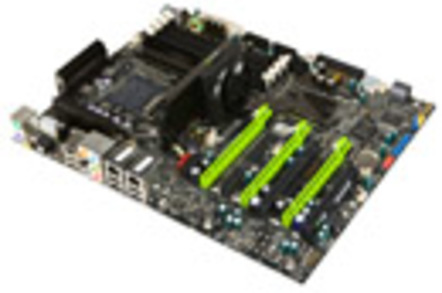 Review The basic version of Nvidia's new nForce 790i chipset is the 790i SLI, with the 790i Ultra SLI coming in at the top of the line. Both chipsets have nearly identical features lists and they both support the latest 45nm Intel Core 2 'Penryn' processors.
Graphics support is a major part of the deal with any Nvidia chipset, and the 790i takes over from its predecessor, the 780i, with support for three graphics slots, two of them 16x PCI Express 2.0 and the third a 16x PCI Express 1.1 slot. The difference is that the 780i SLI - reviewed here - used an nForce 200 chip to run the PCI Express bus. That chip connected to the 780i's northbridge, which was little more than a modified nForce 680i SLI. The 790i SLI models pull the PCI Express functions in-house so the 790i is a traditional twin-chip design where the 780i SLI used three separate chips.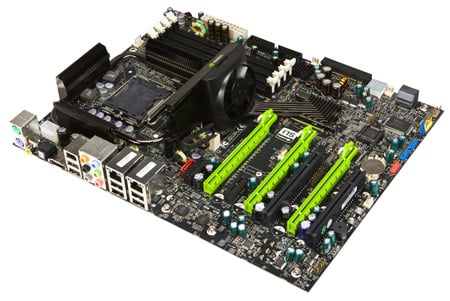 Nvidia's nForce 790i SLI: expensive
Nvidia has made one more important change to the 790i: enhancing the memory support. The 680i and 780i supported DDR 2, but the 790i has a DDR 3-compatible memory controller. This brings us neatly to the difference between the basic and Ultra versions. The 790i SLI supports memory up to 1333MHz DDR 3, while the Ultra adds supports for 1600MHz, 1800MHz and 2000MHz when you overclock your processor.
The remainder of the features are carried over from the 780i SLI, so the six 3Gb/s SATA connections have Nvidia RAID 0, 1, 5 and 10, and the motherboard manufacturer can install one or two IDE controllers. There are two Gigabit Ethernet controllers, support for ten USB 2.0 ports, five PCI slots and HD audio.
The move from 780i to 790i consists of a reduction in the number of chips and a change in the memory controller so you might hope that prices would be held steady or, possibly, fall slightly. Instead, Nvidia has used the launch of these new and shiny chipsets to jack up prices by a startling amount.
At launch there are only a handful of 790i Ultra SLI models on sale. There's the Asus Striker II Extreme, which we used for our tests, at a list price of £285 but can be found for a slightly more reasonable £260. Alternatively, you can buy reference designs from EVGA and XFX for £240. We don't have a price for the Gigabyte GA-790SLI-DQ6, and don't even know the model numbers for 790i boards from Foxconn and MSI. What we do know is that Asus will launch its Striker II NSE, which uses the non-Ultra chipset, at £30 less than the Extreme when it goes on sale later this month.
Sponsored: Minds Mastering Machines - Call for papers now open