Nokia 8800 Arte and Sapphire Arte handsets
Aimed squarely at the money-is-no-object mobile buyer
Review If you want to put your money where your mouth is, the Nokia 8800 Arte is a luxury sliderphone with a eyebrow-raising price tag that says more about you than your average Nokia ever could.
This pair of high-class handsets demand you splash the cash not for the latest smartphone functionality, GPS receiver technology or video call functionality - sophistication and quality are the wallet-tempting key words here, with these mobiles built to high specification in premium stainless steel and glass. Think minimalist chic rather than the overt attention-grabbing of other style phones.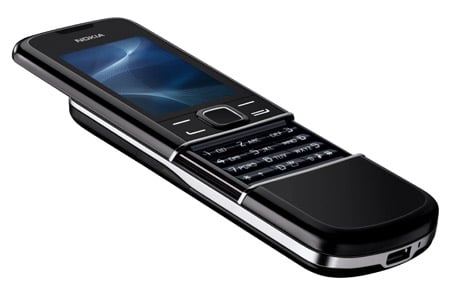 Nokia 8800 Arte: heavy for a relatively standard-function phone
Nokia has introduced the 8800 Arte and 8800 Sapphire Arte in tandem as the latest in its series of luxury handsets. Both models have a similar design and specification – including 3G connectivity, a 3.2-megapixel camera, and media player with 1GB of internal memory – but the Sapphire version notches up the exclusivity level with a real sapphire embedded in the navigation pad, plus additional brown leather trim on the front and back.
Each comes boxed with an appropriately upper-class set of accessories, including a sleek Nokia BH-803 Bluetooth headset, leather pouch and a matching heavyweight desk stand. Strangely, though, there's no stereo headset for music listening – an odd oversight when you're shipping so much money for these phones.
Nokia doesn't equate a premium phone with an all-but-the-kitchen-sink mobile. The 8800 Arte and 8800 Sapphire Arte aren't smartphones or Sat Nav-enabled devices, nor do they have en vogue touchscreen functionality or HSDPA mobile broadband. Instead they use Nokia's standard Series 40 user interface, albeit with some fancy wallpapers, graphics, and ringtones.
COMMENTS
look at it in context
Some people would pay for build quality and the fact that it's a premium phone.
After all, people pay premium prices for Mercs, Jags, and BMWs that have less features than e.g. a Lexus.
Some people really just have too much money. If they want a phone, and have plenty of money and aren't tech nuts, it's a drop in the ocean. So, why not? They could shred the cash and dump it in the trash and not blink an eye.
I wouldn't mind being one of them. :)
@ AC - Nokia Scam
Damn straight - I love Nokias, but this is a piss take way to get money out of people with too much of it, and too little sense!
The vast majority of the missing features (stereo headphones, SD card, flash, jesus, most of the phone) are very standard on crap phones - so how the hell does this get such a high score?
Going from some of the over the top wording (parts read more like a press release) - I can only assume the review model was a keeper, on the promise of a good score!!
Nokia scam-phone?
So, you're paying 1000 pound for a phone because you are very altruist and want to give your hard earned money to Nokia?
An then people say Apple's Jesusphone is overpriced...
*runs and covers*
Not about features, is it?
This is clearly a phone for someone who hates phones with lots of features but still wants one that costs a lot of money. Me, for example.
</drool>
Getting near pub time?
"Niether the 8800 Arte (left) and Sapphire Arte (right) have no front-facing cameras"
What?