Intel demos 'Nehalem' chips clocked to 3.2GHz
Penryn beater?
IDF Intel's next-generation processor, 'Nehalem', will be made available running at 3.2GHz - if demos of the chip at Intel Developer Forum this week are anything to go by.
Officially, the chip giant won't comment on the clock frequencies it will release the initial desktop and sever Nehalems - codenamed 'Bloomfield' and 'Gainestown', respectively - when they ship, an event scheduled for Q4 this year.
However, demo machines equipped with the new CPUs at IDF in Shanghai reveal the chip running at 3.2GHz.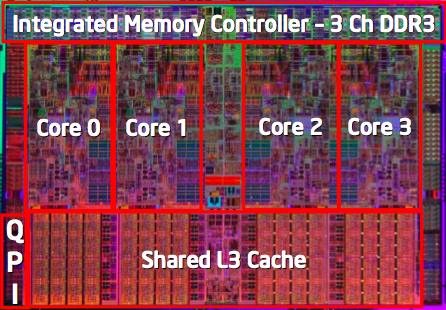 Inside Nehalem
Today, that's the highest speed at which Intel offers a desktop processor, in the form of the 45nm Core 2 Extremes QX9770 and QX9775. The top-of-the-range Core 2 Quad, the Q9550, runs at 2.83GHz, while the dual-core Core 2 Duo E8500 is cloked to 3.16GHz.
Nehalem builds on the Core architecture with a native quad-core design; extra, shared L3 cache; and HyperThreading technology to allow each of the four cores to appear as two virtual cores to the host operating system.
While HT doesn't double the performance of a processor, it nonetheless should ensure that Nehalem outperforms a four-core Core 2 at the same clock speed.
What we can't say is how much heat the CPU generates at 3.2GHz. Again, Intel hasn't made public its thermal design parameters for Nehalem, but on past form, it's likely to want to match the TDP of its current quad-core chips and quite possibly undercut them in a bid to demonstrate a higher performance-per-Watt rating for the new part.
Sponsored: Minds Mastering Machines - Call for papers now open