Jules Verne mates with ISS
ESA hails successful docking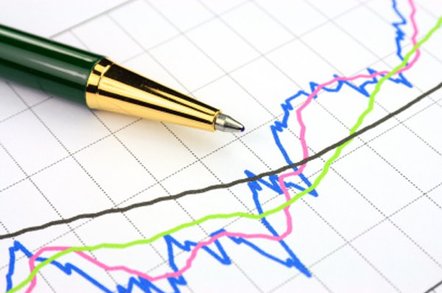 The European Space Agency's "Jules Verne" Automated Transfer Vehicle this afternoon successfully docked with the International Space Station at 16:45 CEST (14:45 GMT) following a cautious approach monitored by both ground-based teams and the ISS's crew.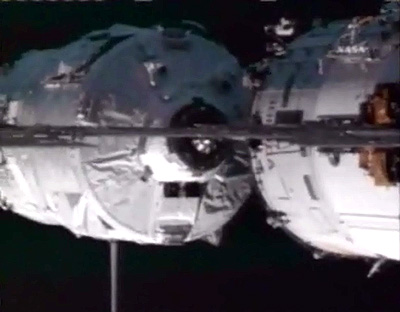 The ESA explains: "The 19-ton unmanned spaceship manoeuvred from a holding position 39 km behind the 275-ton space outpost and conducted a 4-hour staged approach with several stops at reference points for checks. It autonomously computed its own position through relative GPS (comparison between data collected by GPS receivers both on the ATV and the ISS) and in close range it used videometers pointed at laser retroreflectors on the ISS to determine its distance and orientation relative to its target.
"Final approach was at a relative velocity of 7 cm/s and with an accuracy of less than 10 cm, while both the ATV and the ISS were orbiting at about 28000 km/h, some 340 km above the Eastern Mediterranean. ATV Jules Verne's docking probe was captured by the docking cone at the aft end of Russia's Zvezda module at 16:45 CEST (14:45 GMT). Docking was completed with hooks closing at 16:52 CEST (14:52 GMT)."
Daniel Sacotte, ESA's Director for Human Spaceflight, Microgravity and Exploration, enthused: "The ATV is so much more than a simple delivery truck, it is an intelligent and versatile spaceship which has just demonstrated its extraordinary skills. It is the largest and most complex spacecraft ever developed in Europe and the second in size of all the vehicle's visiting the Station, after NASA's space shuttle. With Columbus and the ATV, we have entered the major league of the ISS."
Jules Verne is carrying "1,150 kg of dry cargo, including food, clothes and equipment as well as two original manuscripts handwritten by Jules Verne and a XIXth century illustrated edition of his novel From the Earth to the Moon", plus "856 kg of propellant, 270 kg of drinking water and 21 kg of oxygen" for Zvezda's tanks.
It will act as an additional module for the ISS for about four months. During that time, it will perform the useful duty of deploying its "own propulsion system for periodical manoeuvres to increase the altitude of the ISS in order to compensate its natural decay caused by atmospheric drag", as well as offering "redundant attitude control to the ISS" and even the ability to perform "evasive manoeuvres to move the Station out of the way of potentially dangerous space debris".
When its visit is completed, the Jules Verne will carry ISS rubbish back into Earth's atmosphere for a controlled burn-up over the Pacific. ®
Sponsored: Minds Mastering Machines - Call for papers now open