EMC makes consumer storage box for China
Assuming the consumer is extraordinarily wealthy...
There's nothing wrong in theory with a vendor that caters to large corporations having a crack at the consumer market.
Yet perhaps in being so dependent on the colossal proportions of Brobdingnag, one loses a true sense of scale for the outside world. Ditching metaphors: data centers are willing to spend a lot on hardware. Your average household, not so much.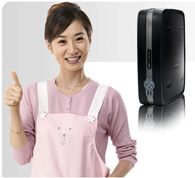 So here's EMC's first product designed, tested, manufactured and sold in a single country outside of the US. It's the 4TB network storage box, the StorageCredenza, today being introduced for Chinese — and at the moment only Chinese —consumers.
EMC says a household can get their hands on the basic model with one terabyte capacity (4x 250GB SATA drives) for only 8,980 yuan.
Hold on, that translates into about £647, or $1,280!
Filling the box with 1TB drives for a maximum capacity of 4TB runs up to 12,000 yuan (or £864, $1,711). Given, the box has management and networking software packed in, but its easy enough to find a commercial 1TB drive for $250. Hell, you can even buy an actual hardwood credenza for under $500.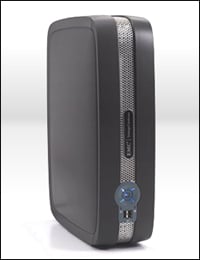 EMC StorageCredenza
The obvious message with the marketing here is that EMC's Chinese operations are doing quite well, thank you very much. But we struggle to see many Chinese consumers dishing out that kind of cash.
EMC chatted with the Wall Street Journal about its angle. "China is quickly becoming the second-largest consumer market in the world," said Steven Leonard, head of EMC's Asian businesses to the publication. The company said it chose China because its one of its fastest-growing markets.
We've been seeing that kind of Eastern love lately from the likes of PC vendors such as Dell as well.
The device has four USB 2.0 (two in the front), two eSATA, and ethernet port. It also comes with EMC's Retrospect backup software.
Intriguingly, the system uses a web-based manager that EMC says can connect with 'puters as well as gaming consoles such as the Nintendo Wii and Sony Playstation 3. Never mind that the storage would cost more than the consoles themselves.
One day the product may be sold in markets outside of China, but EMC isn't saying when and where. Those outside intrigued by the box can at least enjoy the StorageCredenza website, which we're happy to report has some kicking good porno music going on.
Now that's a step in the right direction for selling storage to the common man, EMC. ®
Sponsored: Minds Mastering Machines - Call for papers now open