Intel's 'Bloomfield' spied ahead of IDF public demo
Next-gen Core Extreme seen
IDF Intel's next-generation 45nm processor architecture, 'Nehalem', made an appearance at the as-yet-unopened Intel Developer Forum (IDF) event today. A number of machines sported four-core versions of the chip.
One, packed inside a Supermicro box, was running complex flow analysis - making a flag wave in the wind - on all eight of the CPU's virtual cores. Nehalem uses Intel's HyperThreading technology to allow its four cores to appear to the host OS as double that number.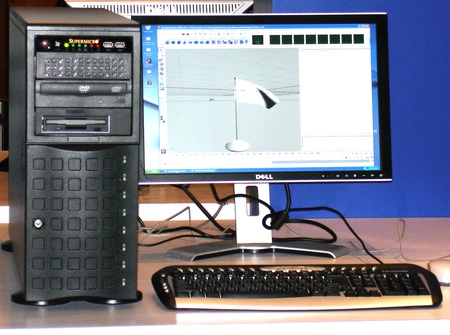 Intel's 'Nehalem': eight cores running - sort of - at IDF
Alas, when we popped by a little later to take a picture, the chip had crashed leaving said flag frozen, but we can confirm is was working earlier.
Other machines were described as being based upon the 'Bloomfield' platform. Bloomfield is the version of Nehalem that's expected to debut as the Core Extreme and Core Quad series - 'Gainestown' is another variant, for two-processor machines.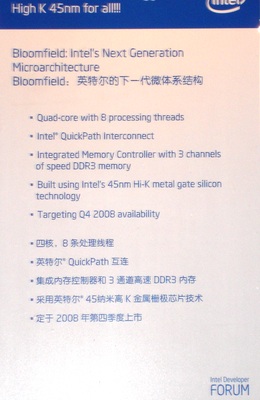 Intel's 'Bloomfield': HyperThreading back on the desktop
Bloomfield is designed for single-CPU boxes, and connects to three channels of DDR 3 memory, the IDF booth confirmed.
The system's remaining northbridge functions are handled by the 'Tylersburg' chip, which connects to Bloomfield - and other Nehalem-class processors, for that matter - over the new QuickPath Interconnect (QPI) bus. Tylersubrg essentially provides a feed to an ICH9 or ICH10 southbridge I/O chip and links two x16 PCI Express 2.0 slots into the system.
Unfortunately, we were spotted by a couple of Intel booth-minders and told to sling our hook, but not before we got these crafty snaps.
Sponsored: Minds Mastering Machines - Call for papers now open