Jules Verne creeps up on ISS
Space truck struts its stuff prior to docking
The European Space Agency's "Jules Verne" Automated Transfer Vehicle is slowly but surely creeping up on the International Space Station prior to a docking scheduled for 3 April.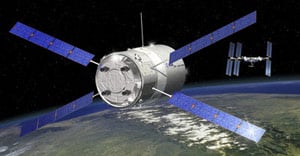 The ATV space truck will today strut its stuff on the second of two "demonstration days" designed to test the rendevous tech. On Saturday, a first demo proved the vessel can perform "navigation with the ISS using relative GPS to successfully and safely manoeuvre the spacecraft to a point located 3.5 km behind the ISS and at the same orbital altitude".
John Ellwood, ESA's ATV Project Manager, explained: "Having tested very successfully on Saturday the first part of the rendezvous, in particular using the relative GPS between that on Jules Verne and on the Russian Service Module of the ISS, we now have the go-ahead to test the second part of the rendezvous which uses the [laser-based] optical sensors. This will be very interesting, but we have a lot of confidence based on the great performance of Jules Verne during the first demonstration day."
The Jules Verne is due to start its second demonstration at 14:26 CEST (12:26 GMT) today, and "approach to a point just 11m away from the docking port on the Russian Service Module Zvezda".
If all goes according to plan, the ATV will dock with the ISS at 16:41 CEST (14:41 GMT) on Thursday with its load of dry goods, liquid propellant, drinking water and oxygen. ®
Sponsored: Minds Mastering Machines - Call for papers now open