Sharpcast syncs PCs, Macs and mobiles
Online backup with a syncing feeling
Startup Sharpcast has entered the remote storage battlefield with a new service that backs up data over the internet, and then syncs it across PCs, Macs, and mobiles.
SugarSync is an appealing chimera, with pieces of automated backup, folder synching, remote access, cross-platform sharing and mobile phone backup fused into a simple application.
Personally, I've never had much luck getting Windows Vista and OS X Leopard to recognize each other over a home network — so there's some appeal there. Sure, I'll humor the computer gods by impotently waiting at each OS's respective network menu for signs of life. Each time full of naive hope, even though they apparently stand a better chance of getting a signal from a Cylon Basestar over SETI.
So from that perspective, SugarSync's Windows and Mac support is an appreciated feature. Its best trick, however, is probably its ability to backup and transfer data to and from a smart phone. Currently, Sharpcast has flavors of its manager that can be installed on Windows Mobile phones (version 5.0 and higher) and BlackBerry Curve, Pearl and 8800 series. Once installed, the mobile acts as any other synched device.
This ability allows for a scenario such as taking a picture with your phone and having it instantly and automatically appear on your PC as well as be available on the web.
After signing up for the service, SugarSync Manager prompts what folders should be synched. The usual suspects; documents, pictures, music, videos and desktop are there and any additional folder can be added. From there, its the waiting game as the application uploads the data over the internet. This can take a while, obviously depending on the amount being stored and the connection.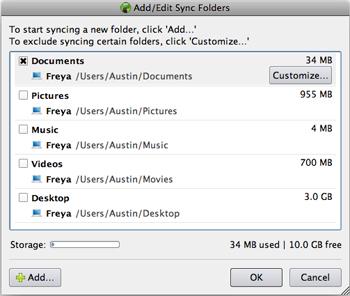 Yes, I named my computer Freya. Do you have a probl...
According to Sharpcast CEO Gibu Thomas, the company uses their own tier one data center as well as Amazon S3 for redundant backup. Sharpcast is currently building itself a second facility too.
The core platform is an evolution of the company's earlier efforts in photo sharing and synching, Sharpcast Photos. Thomas said Photos was built as a proof of concept of the code to get a real handle on how well it scales.
Once the data is uploaded, it's available through the manager and over the internet on a secure website. Pretty basic online storage fare here. Files can be downloaded, e-mailed, renamed or viewed from the browser. Uploading a file over the internet makes a copy automatically appear on the synched computer and vice-versa. There's also a website designed specifically for the iPhone's dimensions. Any phone with internet access can in fact get to the page — although unless the phone has a way of opening the file, its usefulness is limited to data transfer.
SugarSync truly becomes interesting when it's installed on multiple devices. After installing the manager on subsequent computers, it prompts to select folders to get a "full sync" or "lite sync."
The full option means changes to a file or folder are reflected on every device using the manager. If a PC is offline, changes are made automatically when the computer is reconnected.
Lite allows a user to temporarily sync selected files from the server to a remote computer without using local storage. Uploading a file puts it into a computer's temporary cache, where the data can be changed, saved and synced everywhere else.
SugarSync also uses a folder called "Magic Briefcase," which automatically appears in the Documents folder. The folder is permanently set in full sync mode — so changes made in the folder are reflected on all devices with the manager installed.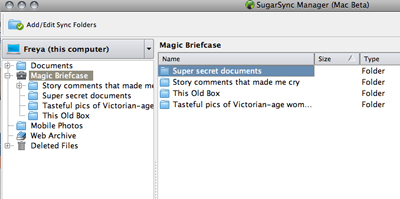 It's a secret to everybody!
The application is not without its problems too. Right now, SugarSync is sorely lacking an ability to sync contacts or calendar events. That seems like an important feature for the kind of person interested in such a product, although Thomas says he company is working on this. First priority is address book syncing, which should arrive mid-year with calendar syncing following shortly after. Thomas also said SharpCast will be opening SugarSync's API so developers can make the application sync to other applications such as Facebook.
The SugarSync manager is currently available for OS X and Windows (as well as the aforementioned smartphones), although the Mac version is still in beta and not without the occasional hiccup.
Then there's the price, which lands on the steep side of things. SugarSync begins at $5 a month or $50 a year for 10GB of storage. It goes up from there, as indicated in the chart below:
| | | |
| --- | --- | --- |
| Storage | Monthly subscription | Yearly subscription |
| 10 GB | $4.99 | $49.99 |
| 30 GB | $9.99 | $99.99 |
| 60 GB | $19.99 | $199.99 |
| 100 GB | $29.99 | $299.99 |
| 250 GB | $49.99 | $499.99 |
A 250GB ceiling seems particularly questionable, considering SugarSync is designed for uplinking multiple systems. This is another thing Thomas said the company will be address. Meatier storage offerings are definitely in the cards.
SugarSync subscriptions are currently at a 50 per cent discount until April 15 for early adopters. There's also a 45-day free trial if such a service tickles your curiosity. ®
Sponsored: Minds Mastering Machines - Call for papers now open