Shocking phone patent features heart-start smarts
Stand clear
We've all had some shocking news delivered through a mobile phone. But if you've got a dodgy ticker, thank your lucky stars that someone's applied to patent a handset with an integrated defibrillator.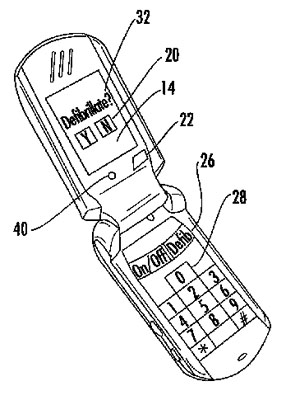 A patent application for a mobile phone-cum-defibrillator
The application for a "wireless communication device with integrated defibrillator" describes a handset that's capable of "delivering an electrical charge to defibrillate the heart of a victim experiencing cardiac distress".
The inventor claims the phone's inital design will be capable of determining when the victim's heartbeat has become irregular, if defibrillation is necessary and, crucially, if the shock's been successful.
Two of the handset's buttons deliver the electric shocks to the unfortunate user's heart, in much the same way as a traditional defibrillator works. The application doesn't mention if the phone will dial 999 for you, should it be unable to get your heart running again.
Register Hardware can see several design flaws. Firstly, using the defibrillator will play havoc with the phone's battery life. Secondly, what's to stop unruly children from giving 'friends' a quick playground shock?
Nonetheless, the inventor states that other defibrillator patent applications have already considered incorporating, say, GPS into the medical kit. However, this application claims none have ever thought of putting a defibrillator into a mobile phone – making this design unique.
If the patent's ever granted, the inventor also hopes to develop the design to incorporate a camera and MP3 player. Well, the crowds will need something to keep them amused until the paramedics get there…