Best Buy calls copper on unsatisfied shopper
Next time just smile and buy your stuff
A Best Buy store in New Jersey foiled one man's treasonous plot to subvert a troubled US economy by discouraging the purchase of an overpriced headset.
According to a report from The Consumerist, the prominent electronics merchant summoned police on a shopper identified as "Alex" because he shared an unfavorable impression of a Jawbone headset to customer considering the product.
Alex told the man browsing Best Buy's mobile section about his personal dissatisfaction with the quality of the Bluetooth headset and noted the retailer marked up the price by $30 compared to his local Verizon store.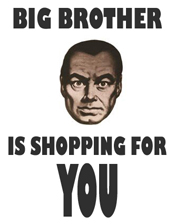 A savvy sales associate reportedly overheard Alex's attempted disruption of commerce and promptly informed the nearest authority figure, store's manager, Tom.
Alex was approached by the manager and asked to leave the store. He steadfastly refused — unaware or even perhaps unconcerned that his words wounded Lady Liberty and the national economy she depends upon.
According to Alex, the manager rebutted his insistence that he did nothing wrong by claiming his requested evacuation was "policy." Tom then walked away and instructed an associate to summon the police.
Startled by the rapidly intensifying predicament, Alex attempted to call Best Buy's customer support phone number. He was put on hold.
Two police officers arrived on the scene, accompanied by four Best Buy security clerks to send the subversive customer on his way. Alex was escorted out before he could reach a customer service rep on his phone.
We salute you, Tom, manager of the East Brunswick Best Buy store. Your gallantry, level-headedness and stalwart leadership is an inspiration. Keep checking those receipts at the door and stay classy. ®
Sponsored: Minds Mastering Machines - Call for papers now open