World's slimmest 256GB SSD unveiled
Lose pounds, not gigabytes
US manufacturer Super Talent Technology has begun sampling what it claims is the world's slimmest 256GB offering yet.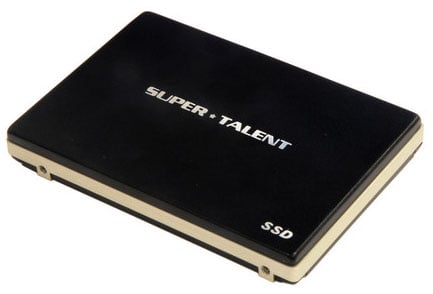 Super Talent's 256GB SSD: ready for standard laptops
The notebook-friendly 2.5in form-factor drive is encased in an aluminium housing measuring 100 x 70 x 12.5mm. 2.5in HDDs that are 12.5mm thick are ten a penny, but Super Talent said its drive is 40 per cent thinner than existing 256GB SSDs.
That's because they're all chunky offerings aimed at military and industrial applications. Super Talent's drive is the first 256GB model aimed at regular notebooks.
But not slimline models, like the MacBook Air, which typically use drives that are just 9mm thick.

The drive is measures 12.5mm deep
Super Talent's drive has an access time of 0.1ms, whilst its maximum sequential write speed is 50MB/s and 65MB/s during read mode.
Small knocks and scrapes shouldn't cause problems for users, because the drive can withstand shocks of up to 1500G and vibrations topping 16G. The drive has a SATA interface.
The 256GB model goes under by the model number FSD56GC25H. The line-up also includes 128GB, 64GB, 32GB, 16GB and 8GB drives. Pricing for the 256GB product wasn't revealed...
COMMENTS
remember when
I remember when 1GB SCSI-II drives (full height no less - none of this 12.5mm junk) were selling for around $1,000. And not all that long ago - 1997. So by that scale, a 256GB drive would have cost $250,000 or so. $5,950 / $250,000 = 2.4% in other words this drive is 42x cheaper per GB.
I'll take 50! yah right....
But seriously, it's fantastic to see that they even make drives like this. I mean 0.1 ms seek???? thats fast. and 50-65GB /sec transfer rate - that smokes practically any drive out there assuming it can keep it up over a good stretch of time. It's only a matter of time until we all have this tech in our notebooks.
Yeah Okay!!! Not for that!!!!
http://www.mydigitaldiscount.com/ProductDetail.jsp?LISTID=8000062E-1201557509
Anywhere between $6000-$7000 screw that....
Price
As always it comes down to price. Without the price I won't get too excited about it and especially so if it is ridiculously priced.